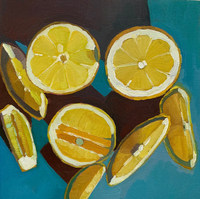 The German word liebevoll.
The subway driver who re-opened the doors for me in the early morning when I got to the train two seconds too late. Thank you!
My all-time-favourite: The smell of fresh, clean bedclothes. Spending Sunday morning in bed - reading, drinking coffee and miso soup, watching the snow falling.
Playing a Russian countess for a murder mystery dinner. I loved wearing all my fancy jewellery and MAC's Russian Red lipstick. In the end I even met Barbara with Tobi and Maike in Schwabing.
A self-love story which pretty much sums up my own process. Good to know I'm not the only one with these issues.
Making plaster masks with the kids. Everyone had fun, was occupied and didn't get on my nerves. And Sophia and Konstantin were extra cute with each other. I loved the way he held her hair out of her face and carefully put the fabric on her face. Quite sweet and intimate!
Sunny days! Waking up with rainbow prism light spots on my wall on a Saturday morning.
I never thought I would say this but honestly? Going to the gym. I kinda enjoy working out there at the moment: noticing how the strength exercises target exactly the right muscles in your back. Watching Netflix or reading a book while on the cardio machine. Knowing that whatever you're doing is going to make you stronger and healthier.
Spending Friday evening with Lena. Making dinner (lentils, carrots, hummus, Padrón peppers, veggie meatballs, olives, popcorn and dark chocolate soy pudding - quite a feast!), dancing in the living-room, watching the entire first season of Russian Doll with Natasha Lyonne who is one of my favourite actresses. One of the best series I've seen lately.
The sounds Lucie makes with a 3D glass pyramid in yoga class. She plays them behind and over our heads when we lie in Shavasana. Gives me shivers... very ASMR-y!
A spontaneous board game night with Bibi, Manu and Andre. Playing Privacy and Krazy Words, getting Manu really drunk (and ending up talking to him on the phone for two hours in the middle of the night). Braiding Andre's hair. Holding hands under the table.
Making vegan burgers with avocado, eggplant and soy protein patties. Some lemon salsa and potato wedges... So good.
Trying out all of Manu's weird instruments. Playing the flute and singing to Woodkid's I Love You.
Spending almost four hours at the gym on Sunday afternoon. Trying a Pilates class for the first time (harder than I thought), swimming for half an hour in a pretty much empty pool, even going to the sauna. Working out, too. Eating a frozen banana with almond milk and a spoonful of protein powder. So freakin' delicious.
Sports swap - an ice-hockey player and a figure skater try to teach each other their sport.
Zotter vegan coconut marzipan chocolate.
The fact that Sir Alexander Fleming is an anagram for "an ex-girlfriend sale" (and yeah, there is a leftover M but those anagrams make me go crazy each time we enter the pub quiz at Shamrock).
The construction work at Sendlinger Tor is finished so I have started taking the tram again in the morning. Which is so much nicer than the subway. I just sit there, don't have to change trains a third time, eat my breakfast, read a book or watch the sun rise over Munich.
The sun being strong enough to dry my laundry within a few hours. Wearing a new bathing suit in bed, reading, enjoying the sunlight.
Meeting a lawyer from Nymphenburg. Helping him assemble his IKEA shelf. He made angle hair pasta for me and let me spend the whole evening with his cat Freya.
Making a very tasty coconut curry with broccoli, potatoes, eggplant and button mushrooms.
Meeting a dentist I really liked and clicked with. We actually had a very nice chat before and after she examined me. I'll be back.
Hearing the birds sing on my way home. A large, white, full moon. Riding my bike on dry streets without being scared of slipping.
Trying out different yoga classes. I think so far Vinyasa is my favourite but it's really demanding.
A dream about subterranean volcanic activity in a 'Rocky-mountain-esque' landscape. Chubby students. Cocaine pills. A weird scavenger hunt.
An easy read about magic and the history of London... Ben Aaronovitch's Rivers of London is such a page turner.
Feeling very competent and beautiful. People telling me how young I look. What a good job I'm doing. For reading so much. For going to the gym. I guess I am kinda awesome. And vain. And arrogant. And sometimes I accidentally fart during yoga class. So I'm human after all, eh?
Getting the balcony ready for spring. Cleaning, throwing out all the old, dry plants; making room for something new.
A dance-y spine workout with a weird, energetic instructor. At least I enjoyed the intro until I found out that I don't have any stomach muscles whatsoever.
Having the pool for myself. Practising handstands.
Karaoke with Manu, Andi and Dan. I sang Walking in Memphis - ALONE!! Afterwards a guy stopped me on my way back to our table and showed me that I had given him shivers because it's his favourite song. He's a huge fan of Elvis and had already been to Memphis and Graceland.
My little Monday morning routine. Prepering breakfast, cleaning and organising the kitchen. Lighting a candle, doing sun salutations in front of the balcony door (of course with my favourite Krishna Das song playing in the background). Using the black roll, stretching some more. Enjoying breakfast (porridge, tea and miso soup) and an episode of whatever I'm watching.
Ladies night with Barbara and Maike. Ruining our voices with SingStar/SingSong. I love those two. So smart and funny.
feb 2 2019 ∞
mar 3 2019 +