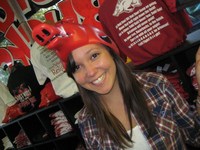 Playing fax machine w/ Julie Nelson, Alyssa Walden, Megan V, &other peeps just after I moved to Fayetteville.
Making britney spears videos w/ yocum girls.
Eating w/yocum girls every night as a "family".
Thirsty Thursday's with Gregg Stutts.
Starting Younglives & being part of this ministry.
Shopping day w/Cameron and Mari at the Pennacle when we lost track of how much we spent.
Getting library cards with Katherine, Mari & Cam and literally checking out the entire Fayetteville Public Library.
Meeting Sarah Ann for the first time.
Juno halloween costume & Catdog costume.
Having a ton of quiet time with Jesus in the dorm.
Playing football in the pouring rain sophomore year.
Yocum girls Christmas Party & going to movies in snuggies.
Going to 5 parties in one weekend sophomore year in the "party car".
Studying biology with Katherine.
The creation of Ver & Coco
Summer Staff at Lost Canyon.
Every stinking thing about Spring Break junior year!!
21st birthday when it snowed 21 inches and school was cancelled.
3 week period of soo many snow days where my roommates, becca, ginny, and peggy all never left our house & watched lost/made crafts the entire time.
Roller City 90's birthday party with Kath and Mari.
Weekend when Arkansas played Alabama- I got my nose pierced & we hung out the night at the stadium where ppl camped out.
Signing the lease for 2078 e. Stanwyk Drive.
Beth Moore with best college friends & best adult women.
Family Reunion summer of 2010 in Allen, TX.
Sleepovers every night with Katherine Haworth junior year.
Going to the library w/ friends to study but just end up laughing the whole entire time.
When Professor Jordan from Social Welfare Policy told me in front of the class that I was going to be a "powerful and one of the most effective social workers" because of my vulnerability.
Physics lab with Marshal, Drew & Mr. Rawilson.
meeting Becca on the 10th floor of Yocum when I was in the hallway crying.
Baby Christian's first birthday party.
Spending 4 hours on facebook with Katherine and laughing so hard to the point of crying.
Watching romantic comedies with my best girl friends.
Going on long drives to Weddington sophomore year.
Speed dating at the leadership forum junior year in Little Rock and smoking hookah the next night with all the leaders.
Zack Kruger sticking his head out the window while driving down dickson street in his catDOG costume and acting like a dog.
Building a fort in the middle of the living room with my roommates and watching movies all night inside our fort.
Giving Katherine 21 gifts for her birthday.
My mom coming up for 4 days and cooking every meal for me the entire time she was here.
The many nights that I stayed at the Stutt's house.
Teaching children's church at New Heights and one of my 2 year old's that was black started singing "pants on the ground" during worship time.
Dancing "coyote ugly" style with Tina, Nicki, and Weezy.
Canoeing with Sarah Ann at college weekend junior year.
Singing with Katherine in the car and singing every song in character to whatever we felt like being.
Crindleback and everything this entitles.
SOPCHOPPY spring break 2011
Having a conversation about eating fetus' at sopchoppy.
REFRIED BEANS SONG.
Riding w/ my yocum biffs every Sunday.
late night convos at Gregg & Robyn Stutts house.
Backpacking with Wilderness Younglife.
Arizona.
Getting pulled over by officer Shephard and then running into him/chasing him the next day with Katherine Haworth.
Panama Spring break 2012!!!
Going out to a club practically every night of spring break.
All the hilarious make out stories... esp aeropostle!!
Dance moms obsession with MariAlison.
Longboarding with Daniel.
The awk of putting my relationship status on fb aka my parents anniversary, carlyles birthday,oumapiour fake engagement pic came up.
Passing Research Methods for Social Workers.
Meeting Jars of Clay drummer.
Cotton Bowl 2012 with Mason Collar and Dan Meador. Coors bus tailgate, fake proposals, sneaking Dan in game, Prime Bar and Taco Bell.
Painting during worship at Church at Arkansas.
Ballet lessons.
Getting my dog, Epic.
Rachel punching a hole in the wall at the Church at Arkansas during leader initiation night.
Younglives camp.
Throw up ripple effect with Rebecca Madox, Rebecca Schneider, and myself.
21st birthday "You are so pretty"-frown girl.
Black Friday shopping with Emely and Joel (younglives).
Singing "Independent" by Destiny Child parody w/ Katherine Haworth "The shoes on my feet, DAD BOUGHT IT".. "Cause' I depend on DAD if I want it".... "Dad I didn't know your back account could get dowwwn like that"..
Spring Break 2012 at Panama City Beach!
Peeing in a trashcan in front of Sarah Ann at a bar in PCB.
"Mmmm Hmmm?" hhahaha, enough said.
Younglife college prom dress bowling ball event.
Social work peers and all of our countless "bitch" sessions and laughing moments.
Laughing moments w/ Kitz... like at 3am when we laughed about something horrible and kept saying "oh no, this is NOT good!!!"
Nonnie and I raising money on Dickson street telling people about our dream to go to a poetry slam and then getting enough money to go. Then hearing a poem about Mexican Food and me going WILD over it, haha.
Bikes blues and BBQ for 4 straight days.
Kitz and I laughing bc Carlyle (at game night) said, "Aww yea, PAPA BEAR HAS A FAMILY! COME ON MAH CUBS, COME ON MAH CUBS!!"
Playing spoons with 18 people and wearing duck tape on my arms because it was that intense and I kept getting carpet burn.
Game night w/ Josh Cox friends and Logan saying, "Ok guys, make venn diagrams in your mind"
At Katherine's game night, Carlyle stretching out his arms and someone says "JESUS?!" and his face before and after that. Kitz and I died laughing for a good 30 minutes.
Kitz singing "We are never getting back together" by t-swift while she's walking down the stairs at KP's and we just here "ohhwooo-oo-oo-ohhh-wooo-oo-ooo-ooAHHHHH" and crash, she fell down the stairs.
Cy Martin driving me, kitz & nonnie home from Sideways and I only had 2 tequila shots but was embarrassingly drunk... and in the car I kept saying "shhhhhhhhhhhhhiT,I'm a puppet". Then throwing up & kitz taking care of me.
Heart-to-hearts with Kitz, praying, then seeing a shooting star after.
Zack at the younglife meeting when my mom was there saying "AIN'T NOBODY GOT TIMEEE FOR 'DAT".
Carlyle & Nellie getting lost in the woods and a search team going out to find them (scary, but still memorable).
When I worked at NW-BHU, I was talking to myself and then a patient goes "Are you responding to the voices?!"
Thanksgiving break 2012, doing a vincent van gogh puzzle w/ my uncle that took hours of concentration, so we ditched it and went outside, drank, and danced around the fire w/ my entire family.
Twilight w/ Emely and Joel.
Playing truth or dare with Christi and Nonnie... jumping out of the car and dancing with random strangers.
The Bachelor with the gals.
Going out to Dickson.
may 7 2011 ∞
may 2 2013 +