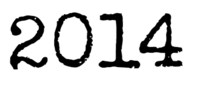 2017 • 2016 • 2015 • 2014 • 2013
s o u n d t r a c k | twenty favourite songs
❝ain't it fun❞ — paramore
❝bashful❞ — kwes.
❝boom clap❞ — charli xcx
❝BTSK❞ — MS MR
❝chandelier❞ — sia
❝dirty paws❞ — of monsters and men
❝do i wanna know?❞ — arctic monkeys
❝eye of the needle❞ — sia
❝hey❞ — pixies
❝i follow rivers❞ — lykke li
❝outside❞ — calvin harris, ellie goulding
❝psycho killer❞ — talking heads
❝rather be❞ — clean bandit ft. jess glynne
❝riptide❞ — vance joy
❝say you'll be there❞ — mø
❝stay with me❞ — sam smith
❝stolen dance❞ — milky chance
❝take me to church❞ — hozier
❝tessellate❞ — alt-j
❝vienna❞ — billy joel
w a t c h l i s t | fifteen favourite films
π (1998)
american hustle (2013)
apartment, the (1960)
au revoir les enfants (1987)
devil wears prada, the (2013)
good will hunting (1997)
grand budapest hotel, the (2014)
guardians of the galaxy (2014)
league of extraordinary gentlemen, the (2003)
maleficent (2014)
neverending story, the (1984)
philadelphia (1993)
punk singer, the (2013)
sophie's choice (1982)
synecdoche, new york (2008)
m a j o r e v e n t s | twelve holidays & happenings
in january, i marched into j's place of employment and argued his wrongful termination to reinstatement.
in february, i attended a wildly inspiring local production of "the vagina monologues".
in march, it felt like winter was never going to end.
in april, i became mildly obsessed with furthering my education via virtual hogwarts (and it was awesome).
in may, drunken and heartbroken confession rerouted the course.
in june, i out-interviewed the (probably better-qualified) competition and transferred internally to a loftier position.
in july, sex.
in august, an officer's deplorable behaviour sparked a nation.
in september, a case of mistaken identity had me in for questioning.
in october, i donned rosie the riveter garb and bright red lippy for the first time (!!!).
in november, … fuck, i'm still not ready to talk about november.
in december, everything sort of came full circle, as it does.
w a t c h l i s t | pt. ii | ten netflix binges
buffy the vampire slayer
gilmore girls
house, m.d.
how i met your mother
l word, the
mindy project, the
orange is the new black
roseanne
scandal
taboo
l i f e c y c l e s | seven births & deaths
birth, february, bradley
death, march, patrick (s)
death, august, mike brown (m)
death, august, robin williams (s)
death, september, tara (s)
death, november, tamir rice (m)
death, december, leelah alcorn (s)
and then some. unbelievable.
b i b l i o p h i l e f i l e s | five favourite books
fahrenheit 451 , ray bradbury
golem and the jinni, the , helene wecker
invisible monsters , chuck palahniuk
mr. penumbra's 24-hour bookstore , robin sloan
ocean at the end of the lane, the , neil gaiman