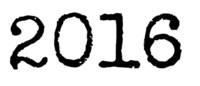 2017 • 2016 • 2015 • 2014 • 2013
► s o u n d t r a c k ♫♪
❝cheap thrills❞ — sia
❝coffee❞ — sylvan esso
❝do you remember❞ — jarryd james
❝don't let me down❞ — the chainsmokers ft. daya
❝ex's and oh's❞ — elle king
❝the fire❞ — kina grannis
❝firestone❞ — kygo
❝follow your arrow❞ — kasey musgraves
❝in the night❞ — the weeknd
❝jesus christ❞ — brand new
❝georgia❞ — vance joy
❝lean on❞ — major lazer and dj snake ft. MØ
❝let it go❞ — james bay
❝lost boy❞ — ruth b
❝make you better❞ — the decemberists
❝merry go 'round❞ — kasey musgraves
❝send my love (to your new lover)❞ — adele
❝songbird❞ — fleetwood mac
❝stand by me❞ — florence + the machine
❝starboy❞ — the weeknd ft. daft punk
❝stitches❞ — shawn mendes
❝stressed out❞ — twenty one pilots
❝symphonies❞ — dan black
❝tessellate❞ — ellie goulding
❝when we were young❞ — adele
❝written in the water❞ — gin wigmore
❝unsteady❞ — x ambassadors
► l i t e r a t u r e
appalachian elegy, bell hooks
the color purple, alice walker
the night circus, erin morgenstern
the princess saves herself in this one, amanda lovelace
► c i n e m a t o g r a p h y
CGBG (2013)
daisies (1966)
deadpool (2016)
foxfire (1996)
ghostbusters (2016)
suicide squad (2016)
x-men: apocalypse (2016)
XXY (2007)
young frankenstein (1974)
► n e t f l i x & c h i l l
bob ross: beauty is everywhere
bob's burgers, s5
frasier
how to get away with murder
making a murderer
parks & recreation, s7
rupaul's drag race
stranger things
► l u n a r c y c l e s
in january, lydia went under the knife & came out with battle scars.
in february, with scissors & love, i crafted a heart to exchange; we sipped on each other's wine-soaked lips.
in march, i was practically blissful in the springtime sunshine.
in april, i ditched my seven-year-old blog because it was haunted.
in may, i doggie-paddled around a lukewarm pool all alone.
in june, my mother lost her mind.
in july, my body reverberated with the live jams of my favourite bands. (nashville was incredible; july was nice, too.)
in august, i moved into a charming downtown duplex with my lover and my darling familiar.
in september, stress wore me out and wore me down. i comforted myself with dreamy domesticity.
in october, i was mad as a hatter.
in november, all our plans fell through, very suddenly. ❝ i guess it's back to the drawing board.❞
in december, i descended a downward spiral into a deep depression.