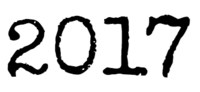 2017 • 2016 • 2015 • 2014 • 2013
fifth anniversary edition!
► OVERVIEW
MMXVII
academy award for best picture ▸ moonlight (2017)
chinese zodiac ▸ year of the fire rooster
dictionary.com word of the year ▸ ❝complicit❞ ❈

adj., choosing to be involved in an illegal or questionable act, especially with others

pantone colour of the year ▸ greenery (15-0343) ❈
time person of the year ▸ the silence breakers ❈
► soundtrack ♫♪
❝ahead of myself❞ — x ambassadors (2017)
❝bad ritual❞ — timber timbre (2011)
❝believer❞ — imagine dragons (2017)
❝cold little heart❞ — michael kiwanuka (2016)
❝feel it still❞ — portugal. the man (2017)
❝good intent❞ — kimbra (2011)
❝i don't wanna live forever❞ — zayn & taylor swift (2016)
❝issues❞ — julia michaels (2017)
❝let me go❞ — hailee steinfeld & alesso (2017)

ft. florida-georgia line & watt

❝lit me up" – brand new (2017)
❝little red❞ — cathy davey (2010)
❝look what you made me do❞ — taylor swift (2017)
❝love myself❞ — hailee steinfeld (2015)
❝lush life❞ — zara larsson (2015)
❝malibu❞ — miley cyrus (2017)
❝meaning of life❞ — kelly clarkson (2017)
❝my body❞ — young the giant (2010)
❝scars to your beautiful❞ — alessia cara (2015)
❝sissy that walk❞ — rupaul (2014)
❝sober up❞ — AJR (2017)
❝suit and jacket❞ — judah & the lion (2017)
❝thunder❞ — imagine dragons (2017)
❝way down we go❞ — kaleo (2015)
❝weak❞ — AJR (2016)
❝what about us❞ — p!nk (2017)
❝when i grow up❞ — first aid kit (2010)
❝whole lotta woman❞ — kelly clarkson (2017)
❝younger now❞ — miley cyrus (2017)
► literature
the interestings, meg wolitzer (2013)
troublemaker: surviving hollywood and scientology, leah remini (2015)
witch: unleashed. untamed. unapologetic. lisa lister (2017)
you are a badass: how to stop doubting your greatness and start living an awesome life, jen sincero (2013)
► cinematography
13th (2016)
beauty and the beast (2017)
carol (2015)
hidden figures (2016)
spider-man: homecoming (2017)
wonder woman (2017)
► television
big brother (2000) • season 19
big little lies (2017) • season 1
feud: bette and joan (2017) • season 1
leah remini: scientology and the aftermath (2016) • seasons 1, 2
saturday night live (1975) • season 43
stranger things (2016) • season 2
this is us (2016) • seasons 1, 2
twin peaks: the return (2017) • season 1
► major events
in january, i joined 3 million individuals in a global feminist march — a bold declaration of strength and love, drawing stark contrast against the previous day's sparsely attended presidential inauguration.
in february, hundreds of bereft coiled into a small town's funeral parlour to mourn the loss of our twenty-six-year-old classmate-friend-brother-son. "in all my years, i've never seen the place so packed," the director remarked.
in march, my best friend's father died. a significant spiritual experience immediately followed the funeral services.

thank you, tony. we love and miss you every day.

in april, i'd grown quite tired of saying "goodbye" as i prepared for my own bittersweet departure. i meditated upon the beauty and necessity of change.
in may, i quit my job, packed all of my belongings, and moved 1,201 miles away from home. i am now living happily in colorado with my girlfriend, her parents, and our three feisty felines.
in june, i spent the summer solstice poolside, a sensual dalliance between myself and the sun's sultry radiance.
in july, i worked very briefly for a company that was so idealistically appealing…until my first scheduled shift. (i quit after my third.)
in august, north americans travelled to the path of totality and collectively looked to the skies as our moon eclipsed the sun for roughly 7½ minutes during this decade's most significant astrological event.
in september, homesickness and depression consumed me.
in october, the #MeToo movement dominated social media in the wake of the notorious harvey weinstein scandal. originating in 1997 with tarana burke and reignited by a tweet, survivors of sexual assault worldwide are raising their voices to break the insidious silence.
in november, amid this year's great losses and grave disappointments, i began to mindfully shift my perspective.

status ▸ work in progress

in december, i will travel by plane for the first time and reunite with my dearly missed family and friends. i'm deeply grateful to be celebrating christmas at home, and would like to wish everyone happy holidays!
► losses mourned
austin trent brownlee • 05/26/1990 to 01/28/2017
charles ❝tony❞ boler • 05/17/1966 to 03/15/2017
donald ❝outlaw❞ chadwell • 01/29/1958 to 10/27/2017
julian andrew bond • 06/27/1970 to 12/14/2017
chris cornell · 07/20/1964 to 05/18/2017
chester bennington · 03/20/1976 to 07/20/2017
tom petty · 10/20/1950 to 10/02/2017
dec 10 2017 ∞
jan 8 2018 +