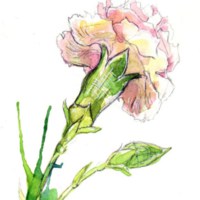 [Pretty much all you need to do for this is write five things • It can be people's names, places, emotions, film titles, song titles, bands, anything that sums up your day • Do this each day on your listography for a year • Copy and paste this so others know what this list is about • My start date: 01/03/2017] — inspiration: i. ii.
▸ February
19 Sun → • • • •
18 Sat → • • • •
17 Fri → amtrak train (but Eric didn't make it) ;~; • department store catastrophizing (and it's consequences) • severe California storms • body guards (and their duties) • ordering a "fourteen lib burger" instead of a 1/4 lb ("quarter pound") burger
16 Thu → a day without immigrants (meant that the tamale shop was closed for today) ;o; • Hunted episode 5 • 7 hours later; ferrari • leftover rices and mashed potatoes • packing for the weekend
15 Wed → dad stayed home today • joined Discord • therapy • there were no seats at Starbucks, why (and so, I took the bus home early) • late night; inigo
14 Tue → Night Runner • walked to Forever Yogurt for bubble tea • Barnes & Noble window shopping • got free pizzas from Crunchyroll! ☀ • medical emergency, 30 minute delay on the CTA
13 Mon → dad had an afternoon doctor's appointment • soft pretzels and a (Starbucks) cup of water • chatted with a veteran about learning languages • impromptu board meeting about travel arrangements • frustrating evening
12 Sun → really frustrated all day • 120 F/GO quartz later and absolutely nothing gained from the gacha • We Are Proud to Present a Presentation About the Herero of Namibia, Formerly Known as Southwest Africa, From the German Sudwestafrika, Between the Years 1884-1915 • the weather was super sunny today but had brutal wind gusting through • Mexican food
11 Sat → across the street from Merchandise Mart (is the Doughnut Vault) • inquired my salad friend for salad recommendations; sooo much leftover event catering food • tfw 2nd best girl scouts your 1st best girl :') • we actually had a literal senpai in our presence • Insomnia cookies & hipster Taco Bell (also my first ever meal there)
10 Fri → fell asleep without a blanket; mom covered me with her's • thoughts about unfriending • weekly email w/boba tea • Giordano's pizza (w/leftovers!) • late night learning about Google Forms
09 Thu → everyone was off of work today • everyone also went to the movies today, hhah • it's all about communication☀ • Blaze pizza for national pizza day • binge watched CBS's Hunted
08 Wed → FGO Valentine's day event started • after 90 quartz MHXA isn't coming home, rip me • worked at the kitchen table today • late, late night on the treadmill • llsif scouting videos
07 Tue → (futile attempt to) salvage the pippin • mom came home early • Jewel's catering is actually pretty good • TED Radio Hour♪ Jon Ronson: twitter is a mutual approval machine, a cathartic alternative to democracy • Team ♫
06 Mon → Nico Nico Nii~☀ • Death Parade • introduced Eric to the Puppy Bowl • "The Council" and other twitter discourse • super foggy outside this evening, sipping Vivi bubble tea
05 Sun → additions to the sticker book • cleaned the basement • superbowl grub • dad gets visibly upset over the most minute things, ugh • last minute llsif T1 for Nico
04 Sat → saw a stray beagle in the alleyway! • This American Life♪ implementations of the immigration ban... my heart aches • super chilly walking outside (without a jacket) at Uchi-con • croissants from Noodles Etc • a really good episode of SNL
03 Fri → the heater in our house isn't working :/ • event planning at club board meeting • sharing historic club gossip to the younger members~ • late night sushi • Alessia Cara on The Tonight Show✧
02 Thu → Backseat Rider♪ don't stunt for the book • thoughts about broadcasting "the other" • thoughts about the gacha component • curated an enstars list • La Capicidad ♫
01 Wed → played llsif until 5am • thoughts about emails • cleared enstars beginner tasks • sufficiently vague explanations • overheard from Mr. Gallo @ starbucks: "St. Anthony is the patron saint of lost items… this isn't the type of item you'd wanna lose loose…"
▸ January
31 Tue → installed FBPurity into chrome • read up on ACen gathering schedule drama • (finally) moved files to new hard drive • unproductive all day • browsed ebay
30 Mon → woke up at 1pm • mostly because I played llsif until 4am • took the long route to the bus stop • it took 6 anime club board members to compose a tweet • mom & dad were in a very cheery mood~
29 Sun → downloaded Ensemble Stars • mostly read the Enstars wikia all day • meatloaf • frozen custard • The Sad Ghost Club✧
28 Sat → dad said that he's proud of me, broke down, and gave me a hug • This American Life♪ coincidences • TED Radio Hour♪ cyborg anthropology • fell while skating on the ice rink • wholesum dim sum and dinner discussion~
27 Fri → hot oolong milk tea (with boba) • walked from Chinatown to downtown • club board meeting • hyped for the voice actor event (and the weekend to follow) • Potbelly's downtown
26 Thu → hazelnut latte • vacuumed • Indivisible Radio♪ what is "sacred" in identity politics • good (but brief) dinner conversation • "You go run, I'll go run to the fridge"
25 Wed → YOU! YOU! WATANABE YOU✧ • remembering Romani • pda on the cta • Flat Top Grill • 4 scoops for 4 years~
24 Tue → oshimen account • snacked on more taco salad • "I didn't fail math; I just gave alternative answers" • treadmill • early to bed
23 Mon → sent the weekly email • David's Tea • Type Moon panel • Kat stopped by~ • felt talkative this evening
22 Sun → #alternativefacts • Titi's taco salad & lasagna • firehouse "fans" • Tio said to give drumpf a chance; I refrained from starting an argument✧ • "There's too much toilet paper in the toilet and it won't flush" - Laila, 3yrs old
21 Sat → Women's March✧ • don't cry over spilled soup • major listography revamp • explained the pussy hat to my dad; he got the snl reference✧ • feeling hopeful
20 Fri → why watch a presidential speech if it lacks rhetoric and eloquence? • severe cramps • took an Imodium by mistake • "Frame the message. Lovely motivation. Knowing that you'll never be this kind of individual✧" • thoughts about interactions
19 Thu → stayed awake between 5-6am • llsif Rin event; updated sukutomo • dad had an upset stomach • treadmill • $5 off a $25+ order of Chinese food
18 Wed → vacuuming and mopping • Obama's last press conference (listened via radio) • ✧OOR✧ • Cheesies Pub & Grub • slipped while sprinting up the Roosevelt escalator
17 Tue → early morning Hanayo scouting (late morning salt) • "BOX WAR!!!!" date tbd • (tried to) write for Wordbound • the Betsy DeVos Secretary of Education hearing... my gosh...... • made time for the nightly news
16 Mon → "MLK would never block a freeway" lol* • Mitsuwa Marketplace • the best seats✧ on a pace bus • the best seat✧ on a cta bus • thoughts about autism
15 Sun → new oxo tea strainer • hard drives versus SSD's • Martha's Visiting Schedule • Obama's final interview on 60 Minutes • chocolate chip cookies
14 Sat → a super slow start to the day • Pulaski at Night ♫ • subway • ice skating on the skating ribbon • a new Hanayo nesoberi ☀ • mom found her old fitbit and gave it to me
13 Fri → downtown bus ride • financial aid office • looseleaf tea • jumbo Bacci's pizza • HK & HK2 screening
12 Thu → leftover garlic potatoes • Backseat Rider♪ They/Them/Theirs • the treadmill is stuck on a 40 degree incline • dog names • sofa cleaning
11 Wed → therapy was cancelled • drumpf to CNN: "YOU ARE FAKE NEWS" • Yuri!!! on Ice • Radiolab♪ blood donation companies are essentially their own type of drug market • A Room of Her Own ♫
10 Tue → thermos with tea infuser • AoE episodes 6, 11, and 15-24 never happened • Obama's Farewell Address (from Chicago!) • Molly's peanut butter nutella cupcakes • crunchyroll's "best" animation poll
09 Mon → morning stress • late email delivery • switch your cardiologist, dad • Jewel's chicken noodle soup • The Corner, Quarantined
08 Sun → left over Sunday deli meat • debt relief (for now) • genuine electric shock • lil partner's ham and cheese bun • To Tell the Truth
07 Sat → 2 slices of French toast • DSW • pistachio macaroons • Blaze Pizza @ 4:20 • down 1st Avenue and back again
06 Fri → nametrain at 100k • #DearAki (featuring Doom) • Loser ♫ • burning shiney • Jimmy Johns
05 Thu → "...I always come back;;" • Backseat Rider♪ Confrontation (part two) • This American Life♪ Kid Logic 2016 • failstrat to 100k • #Wordbound
04 Wed → new year, new theme • oreo hot chocolate, missing white chocolate raspberry lattes • Slytherin sorted • Facets Cinematheque • flame-grilled chicken sandwich (without pickles)
03 Tue → farewell, Christmas decorations • Cabrini-Green documentary • sun-powered 89¢ snowmen • my brother, the mediator • false peacemaking
02 Mon → The Time is Now ♫ • a stroll to Southport • winter season anime panel • the CTA ran on a holiday schedule today, ugh • will Christian find #61 this year?
01 Sun → Welch's Sparkling (White Grape) Juice • pics • analog photo library • stuffed pizza with spinach and mushrooms • introduced mom to Spotify