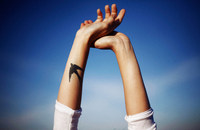 Jack Gilbert, Failing and Flying

'Anything worth doing, is worth doing badly'

Michael Cunningham, The Hours

'We live our lives, do whatever we do, and then we sleep. It's as simple and ordinary as that. A few jump out windows, or drown themselves, or take pills; more die by accident; and most of us are slowly devoured by some disease, or, if we're very fortunate, by time itself. There's just this for consolation: an hour here or there when our lives seem, against all odds and expectations, to burst open and give us everything we've ever imagined, though everyone but children (and perhaps even they) know these hours will inevitably be followed by others, far darker and more difficult. Still, we cherish the city, the morning, we hope, more than anything for more. Heaven only knows why we love it so.'

Regina Spektor

'The other day I was down by the Hudson River, and I see two nuns in full habit rollerblading down the street holding hands. And I'm like, 'Oh, my God, I get it. The world is surreal and beautiful. And everything is fine''

Alice, The L Word

'We're all connected; through love, through loneliness--through one lamentable lapse in judgment'

Annie Dillard, Pilgrim at Tinker Creek

'What I call innocence is the spirit's unself-conscious state at any moment of pure devotion to any object. It is at once a receptiveness and total concentration. One needn't be, shouldn't be, reduced to a puppy. If you wish to tell me that the city offers galleries, I'll pour you a drink and enjoy your company while it lasts; but I'll bear with me to my grave those pure moments at the Tate (was it the Tate?) where I stood planted, open-mouthed, born, before that one particular canvas, that river up to my neck, gasping, lost, receding into watercolor depth and depth to the vanishing point, buoyant, awed, and had to be literally hauled away. These are our few live seasons. Let us live them as purely as we can, in the present.'

Virginia Woolf, Mrs. Dalloway

'For heaven only knows why one loves it so, how one sees it so, making it up, building it round one, tumbling it, creating it every moment afresh; but the veriest frumps, the most dejected of miseries sitting on doorsteps (drink their downfall) do the same; can't be dealt with, she felt positive, by Acts of Parliament for that very reason: they love life.'

Stanley Kubrick

'The very meaninglessness of life forces man to create his own meaning. Children, of course, begin life with an untarnished sense of wonder, a capacity to experience total joy at something as simple as the greenness of a leaf; but as they grow older, the awareness of death and decay begins to impinge on their consciousness and subtly erode their joie de vivre, their idealism — and their assumption of immortality. As a child matures, he sees death and pain everywhere about him, and begins to lose faith in the ultimate goodness of man. But, if he's reasonably strong — and lucky — he can emerge from this twilight of the soul into a rebirth of life's elan. Both because of and in spite of his awareness of the meaninglessness of life, he can forge a fresh sense of purpose and affirmation. He may not recapture the same pure sense of wonder he was born with, but he can shape something far more enduring and sustaining. The most terrifying fact about the universe is not that it is hostile but that it is indifferent; but if we can come to terms with this indifference and accept the challenges of life within the boundaries of death — however mutable man may be able to make them — our existence as a species can have genuine meaning and fulfillment. However vast the darkness, we must supply our own light.'

Annie Dillard, The Writing Life

'There is no shortage of good days. It is good lives that are hard to come by. A life of good days lived in the senses is not enough. The life of sensation is the life of greed; it requires more and more. The life of the spirit requires less and less; time is ample and its passage sweet. Who would call a day spent reading a good day? But a life spent reading -- that is a good life.'

Diane Ackerman, A Natural History of the Senses

'It bothers some people that no matter how passionately they may delve, the universe remains inscrutable. "For my part," Robert Louis Stevenson once wrote, "I travel not to go anywhere, but to go. I travel for travel's sake. The great affair is to move." The great affair, the love affair with life, is to live as variously as possible, to groom one's curiosity like a high-spirited thorough-bred, climb aboard, and gallop over the thick, sun-struck hills everyday. Where there is no risk, the emotional terrain is flat and unyielding, and, despite all its dimensions, valleys, pinnacles, and detours, life will seem to have none of its magnificent geography, only a length. It began in mystery, and it will end in mystery, but what a savage and beautiful country lies in between.'

Margaret Atwood, The Blind Assassin

'The picture is of happiness, the story not. Happiness is a garden walled with glass: there's no way in or out. In Paradise there are no stories, because there are no journeys. It's loss and regret and misery and yearning that drive the story forward, along its twisted road.'

Olivia Salamanca

"My life was meant to be a busy life and my mind a busy mind. So regardless of place or circumstance, there shall be something for me to do."

Eleanor Roosevelt

'Beautiful young people are accidents of nature, but beautiful old people are works of art.'
"The greatest thing I have learned is how good it is to come home again."

Vito H.

"Always strive to be relevant."

Dessa

I'm a lucky motherfucker and I'm working very hard to stay that way."

Rumi

"Look as long as you can at the friend you love, no matter whether that friend is moving away from you or coming back toward you."
oct 15 2011 ∞
sep 15 2018 +