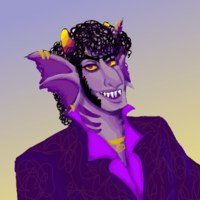 I'm not like other violetbloods - I don't have any blood.
"Psyche" - formerly known as "the Hallowed", or "Hallow" for short. I have many nicknames... "the Glitch", "the Neuromancer", "the Vanquisher", "the Liquidator", and more.
Ageless
Artificial alternian troll / artificial intelligence
Multixenogender
she/her

but not like a girl or feminine... she/her like a (space)ship or a robot voice or the ocean is a "she"