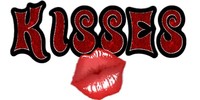 Passionate kisses on the mouth.
Lusty kisses on the neck.
Hugs.
Gentle kisses on the hand.
Sending and receiving handwritten letters.
Learning things I'm not supposed to know.
Working out at the best gym...Crunch!!!
Secret rendezvous with someone unexpected.
Collecting autographs.
Cartoons from the 80's and 90's.
Old notes and letters from my youth.
Books and lots of them.
Australian accents.
Charm bracelets.
Doing surveys on myspace.
Seeing old crushes again.
Strange and useless facts and trivia.
Being tanned skinned with green eyes.
My laptop.
Photography, especially candid black and whites.
Office supplies and stationary.
Songs that invoke some sort of emotion in me.
Quotes.
80's teen movies.
Plunge bras.
Piano instrumentals.
Star Magazine.
Lollipops.
Beautiful perfect white smiles on gorgeous guys.
A guy playing an instrument or singing to me.
I Love Lucy.
A Christmas Story.
The Honeymooners.
Perky, plush boy butts.
Thunderstorms.
Massages.
Southern men.
Select country music.
Singing loudly in a car.
Unexpected compliments.
Facebook.
www.icanhascheezburger.com
Cyanide and Happiness.
Being called cute nicknames by my favorite guys (babygirl, sweetpea, punk ass)
Calla lilies.
Red and white roses.
Vanilla scents.
Hot showers.
New friends that u feel you've known a lifetime.
Making love.
Having sex (NOT the same thing as above).
Self help books/workbooks.
Internet service.
1940's Oldesmobiles.
My cellphone.
Gold hoop earrings.
Any clothing with argyle print on it.
Peacoats (even though I can't wear them cuz the wool irritates my skin)
Dimples :)
Long eyelashes on men.
My niece.
My family.
My dogs.
My closest friends.
The Fall.
Colorful Fall leaves.
Chilly weather.
Sleeping babies.
Baby giggles.
Curious puppy dog eyes.
Sarcasm.
Dirty humor.
Flirting.
Religious jewelry.
Single dads. There's nothing more precious than a guy that makes his kid his world. True strength and character is shown through single parenthood.
Harry Potter movies and books.
When sports teams come from behind and show us why we love them and have never given up on them.
The YANKEES!!!
Tom Brady...my future husband.
212 Splash perfume.
Dolce and Gabbana's The One perfume.
Hipster panties.
One Tree Hill.
AIM (aol instant messenger).
Apparently, making lists.
Being flirted with and having suggestive comments made by ridiculously hot guys I probably could never get (e.g. A very specific personal trainer at my gym).
Men in uniform (army, navy, marines, air force, police, firemen, doctors, etc.)
Remington teflon hair straigteners.
Pink lipgloss.
Chapstick.
Drinking water.
Cover Girl's Lash Blast mascara.
White boys <3.
Old episodes of Braceface.
Cruising passenger side in a cutie's car.
Arizona Mucho Mango juice.
The smell of clothes fresh out the dryer.
The smell of freshly cut grass.
Summer downpours that last 5 minutes while its super sunny.
Friends that show how much they care when you're feeling sad and alone.
dec 31 2008 ∞
nov 2 2009 +