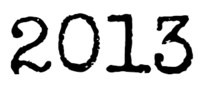 2017 • 2016 • 2015 • 2014 • 2013
soundtrack: twenty favourite songs
"counting stars""counting stars" — onerepublic
"demons" — imagine dragons
"do it anyway" — ben folds five
"explode" — uh huh her
"hardest of hearts" — florence + the machine
"intro" — the xx
"landscape" — florence + the machine
"let her go" — passenger
"lucky" — daft punk featuring pharrell
"midnight city" — m83
"perth" — bon iver
"radioactive" — imagine dragons
"royals" — lorde
"sail" — awolnation
"sweater weather" — the neighbourhood
"sweet nothing" — calvin harris featuring florence welch
"team" — lorde
"the sound of winter" — bush
"wake me up" — avicii
"wasting my young years" — london grammar
fifteen major life events & happenings
in february, josh and i moved out of our first apartment and into our first house.
in march, my aunt jill and brian got married.
in march, my friends amber and chad gave birth to twin girls, autumn and aryiana.
in may, my classmate cain died of a drug overdose.
in may, my friends eric and jemma got married.
in may, josh and i adopted a kitten, pandora.
in june, we had to put down our cat vuschel due to kidney failure.
in june, i was promoted to customer service manager.
in july, i cut my hair for the first time in years: nearly two feet.
in august, my friends robyn and jonathan gave birth to a son, carlin.
in october, josh and i celebrated our two-year anniversary.
in october, i suffered from frequent panic attacks and poor mental health.
in november, i resigned from my position at walmart after four years of 'service' and began my new job as a bank teller.
in november, my co-worker elaine suffered a fatal heart attack.
in december, i met josh's paternal family for the very first time and fell in love with the mountains.
watchlist: thirteen favourite films
blue valentine
catching fire
grave of the fireflies
jeff, who lives at home
moonrise kingdom
pitch perfect
silver linings playbook
star wars, episodes iv-vi
the boy in the striped pajamas
the help
the perks of being a wallflower
the slums of beverly hills
warm bodies
watchlist, pt. ii: ten favourite television shows
downton abbey, series 3 & 4
freaks and geeks (first-timer)
friends (entire series re-watch)
lie to me
my mad fat diary
once upon a time
orange is the new black
supernatural, seasons 8 & 9
twin peaks
weeds, season 8
bibliophile files: seven favourite books
american gods, neil gaiman
looking for alaska, john green
the book thief, markus zusak
the fault in our stars, john green
the help, kathryn stockett
the hobbit, j. r. r. tolkien
we are water, wally lamb