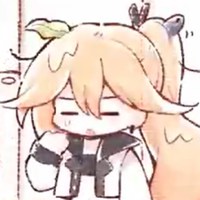 a much more personal account
i use blockchains, so if you were wondering why you were blocked that might be why!! :)
i mostly ramble a lot about stuff im into
sfw acc!!! i just curse a lot sometimes! i dont mind if u post/rt nsfw urself tho
if we were mutuals and you noticed that i sb'd you, it might have been because you tweeted/rted something that made me extremely uncomfortable and i'd like to keep my tl safe for my own well-being. sorry!
I LOVE MAKING FRIENDS so pls dont be shy to interact!! sometimes im just not sure what to say but i do my best wahho!!!
if i miss ur reply im very sorry! my notifs are buggy and dont usually show me all my mentions D:
i post doodles and wips here sometimes but i usually rt super cool stuff!
i dont rly like drama, so if anything about me ticks you off or something feel free to sb/block me!
please sb when breaking mutuals!
feel free to rq when locked!
jun 24 2018 ∞
may 23 2020 +