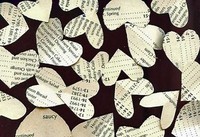 Pay gym subscription (March 25th)
Buy the Salmon colored dress from Mango.
Have at least 2 amazing posts prepared for the blog.
Pick my engagement ring.
Make more lists.
Read one off of the pile of books waiting to be read at home.
Finish studying my GREs
Learn how to take proper pictures with my new camera(the reason why I am currently broke)
Save at least 1K!
apr 22 2009 ∞
apr 22 2009 +