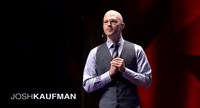 Desconstruir a habilidade: quebrar o que você quer aprender em partes menores, identificar as partes que considera mais importantes e começar a praticar por elas.
Aprenda o suficiente para se auto-corrigir: o aprendizado será mais eficiente quando você for capaz de se aprimorar por conta própria enquanto pratica.
Remover barreiras para o treino: distrações, televisão, internet; quanto menos distração mais fácil para se focar no treino.
Treinar por pelo menos 20 horas.
A principal barreira para a aquisição de habilidades não é intelectual, é emocional.
"Put 20 hours at anything, doen't matter what. What do you want to learn? Want to learn a new language, or want to learn to cook? What turns you on? What lights you up? Go out and do that thing. It will only take 20 hours, have fun. "