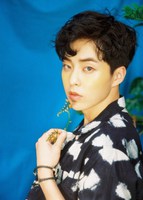 NOTE: I ONLY READ BOTTOM!XIU SO ALL MY RECS ARE BOTTOM!XIU
Xiuhan (Xiumin/Luhan)
AO3
LIVEJOURNAL
Xiubaek (Xiumin/Baekhyun)
Take A Bite (3k, nc-17 )

Minseok thinks everything about Baekhyun is beautiful and it has nothing to do with the fact that Baekhyun is his lover.
Xiuhun (Xiumin/Sehun)
Xiuchen (Xiumin/Chen)
Xiukai (Xiumin/Kai)
the sky is everywhere, so meet me under there mama!au and minor!xiuhan (3k, pg-13)

he was born in the winter, but he has the warmest heart ever seen. minseok, ice himself, would let himself melt under jongin's touch if it was capable of that. / jongin also loves the winter. maybe that's why he loves minseok, too.
mafia!au and ongoing (5k, m)
It's always on Thursdays, when the sun's gone down completely over Lacy and people are barely beginning to leave the comfort of their homes to start drinking and partying. The gangster had come in here for nearly eight Thursday's, had harbored himself in a corner of the club and watched Minseok as he poured drinks for customers and talked to his employees. Minseok thought it was sweet at first, to be admired from afar that is, but the man's been waltzing in here for so long that he has to want something.
Xiusoo (Xiumin/Kyungsoo)
We All Have Those Days (538w, pg-13)

Minseok sometimes breaks down at work

our love (1k, m)

kyungsoo has a bit of a temper on him but luckily minseok's a really patient guy
Xiulay (Xiumin/Lay)
Lipgloss (1k, pg-13 (its more like g tho))

Where Minseok tries to welcome his neighbour and the new neighbour ends up being his first boyfriend.

Prompt #52: Royal Blossom (8k, pg-13)

Minseok finds himself taking care of a peony flower even though he's the furthest from having a green thumb, but something makes him want to keep the flower alive.
Xiumin-centric (Xiumin/EXO)
OT3
Mind Over Matter Xiumin/Lay/Luhan (5k, nc-17 )

That time Minseok gets high with Lu Han and Yixing and they end up fucking him into a stupor.
Xiuho (Xiumin/Suho)
The Romance of Falling Snow slight mama!au (23k, pg-13)

It kind of sucks when his friends who are obviously dating drag Junmyeon along on their ski trip as third wheel, which is why nice hot strangers are such a relief to meet on a chair lift for two.

A Little Bit of Magic hp!au (4k, pg)

HP!AU; Seventh Year Junmyeon ends his last summer as a student rescuing a boy from the clutches of Durmstrang douchebags.