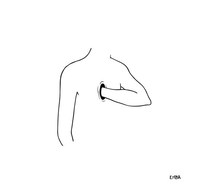 list about some chatacters that i fell related
Molly Peskin-Suso - The upside of the unequired (book)
" i hate hating my body. actually, i don't even hate my body. i just worry everyone else might "
Charles Boyle - Brooklyn nine nine (tv show)
" I'm gonna tell him. It might not be today. It might not be tomorrow. It definitely won't be later than tomorrow. So pretty much today or tomorrow then."
Lara Jean Song Covey - For all the boys ive loved before series (book)
"If two people are meant to be, they'll find their way to each other."
Christine 'Lady Bird' McPherson (Lady Bird) - Lady Bird (movie)
" Just because something looks ugly doesn't mean that it's morally wrong."
Park Sheridan - Eleanor&Park (book)
"You can be Han Solo," he said, kissing her throat. "And I'll be Boba Fett. I'll cross the sky for you."
Magnus Bane - Shadowhunter Chronicles (book serie)
"I think of myself as a freewheeling bisexual"
Lily Aldrin - How I Met Your Mother (tv show)
"I don't need objectivity. You're my best friend, I just need your support."
Rachel "Rae" Earl - My Mad Fat Diary (tv show)
"It's fucking embarrassing how good I look some days."
Bridget Jones - Bridget Jones serie's (movie)
"It is a truth universally acknowledged that when one part of your life starts going okay, another falls spectacularly to pieces."
Kamala Khan - Miss Marvel (comic)
"It's not the size of the girl in the fight that counts... it's the size of the fight in the girl!"