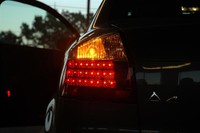 Use the words "hate" or "never".

Or any absolutes. There are no absolutes in life.

Complain.
Say, "I'm bored".

If you're bored, you're boring!

Forget to use my turn signals.
Be intentionally rude or mean.
Eat unhealthy.
Sleep in too late/waste the day away.
Go more than a day or two without exercising.
Judge people on appearances.
Text/use my phone excessively in the company of friends & family.
Lose my temper.
Spend money I don't have.
Spend money on too many 'wants' over 'needs'.
Read/watch/pay attention to celebrity gossip bull shit.
Procrastinate. I really do try not to, it just usually doesn't work :/
Take my loved ones for granted.
Take my life and the wonderful things about it for granted.
Let my living space get excessively messy.
Take my own frustrations out on other people.
Go too long without doing/making something creative.
Become stagnant/stuck in my ways.
Spend too much time on the internet (Listography doesn't help!)/Watch too much t.v.
Go too long without taking some sort of trip. Even if it's just for the day to a town an hour away.
Text while driving.
Kill anything.
feb 23 2009 ∞
sep 3 2016 +