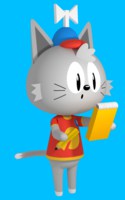 luke / lucas
19 (bday: Nov 1st 1999)
male (he/him)
bi
agnostic
high-functioning autism / aspergers
social anxiety
depression (?)
EN/PT-BR
supporter of critical thinking
hello!! i'm a chill boy who likes obscure video games. welcome!
i sometimes (try to) draw, make dumb videos, program (mostly fan) games and make music! but when i'm not doing that i'm probably just shitposting and doin The Funnies™ on twitter.
feel free to talk to me!! i love making friends
Discord: Lu9#1647
Telegram: LuNiney
Twitter: @_Lu9_