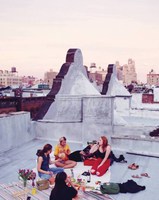 "Hating things: it tended to tell you who you were. Loving things rarely did." / "Joni Mitchell was sitting in the doorway, placidly licking a paw, the feline equivalent of a bitch filing her nails." // Hermione Hoby's Neon in Daylight was such a good read, I thorougly enjoyed it. Hoby has such a nice writing style. I didn't know anything about the book when I picked it up from a library shelf, I just liked the cover and the blurb. Literary luck!
More books: Kurt. I don't know what it is about Sarah Kuttner's writing but it always hits close to home. I loved the description of the old house, the garden work. It made me want to move into my grandma's house with a sad boyfriend, watering the roses with a hose on a lazy summer evening.
Cat eating corn. Feline ASMR. I also spent an evening watching all of these oddly satisfying and soothing videos.
"Training war die Gelegenheit, den Körper an Schmerzen zu gewöhnen." (Takis Würger, Der Club)
Angela Carter's writing. Her characters, her plot-twists and magical realism. Most of all her incredible language. It's the same storyline I usually tell about my closest friends - at first I hated Nights at the Circus but soon realised that I actually loved it.
Fleabag and the priest. SO hot. As well as her jumpsuits and red lipstick. And don't even get me started on Kristin Scott Thomas' guest appearance.
My first time in Canada! I only visited Québec though and had to try my best to speak French in a comprehensive manner. Random moments, things and facts to keep in mind: Diet Cherry Coke obsession / my French improving noticably; learning about the Québecois accent / that bus we took on our way to Québec - it had a lounge area in the back with leather sofas, I kept thinking that a dance pole and a fancy drink were the only things missing / veggie or even vegan-friendly restaurants like Aux Vivres, Copper Branch, Lola Rosa, La Panthère Verte and - my favourite - Momo (who make vegan sushi with their very own scents and flavours; quite floral and very intense, super delicious of course) / getting to meet Emily (thanks, Manu!) and spending the evening with her and her roommate Frankie from London; I loved geeking out over Pixie Dust and Butterbeer in The Lockhart pub, quizzing each other with Harry Potter related Trivial Pursuit questions / meeting Mélissa Lefebvre and Paul Tom who presented their movie Bagages to us / the Canadians - very laid back, friendly, easy-going; I loved their individual looks, you really had the feeling you could come as you are and will always be accepted / of course I like the lumberjack-y vibes of many Canadian men - flannel shirts, bearded and long-ish hair - exactly my type / and I like how inclusive Canada is, at least in Montréal: they put an emphasis on gender equality; I met quite a few openly gay and trans people, too / visiting lots of small concerts (TEKE::TEKE, Les Breastfeeders, Ohmme, Bayonne, The Kalmunity Jazz Project) - I love how cheap the tickets are; I never paid more than 20CAD / my favourite vintage store in Montréal: Eva B. It's huge, and they serve vegan snacks! I got two pairs of Cowboy boots, a purple silk jacket and a green bandana / meeting a few friendly cats (one on the lap of a lady in a wheelchair) and an acrobatic gaga-squirrel / Montréal's architecture - the staircases, the stained-glass windows; all the street art, and of course the city's most enigmatic street, Boulevard Saint-Laurent / maple everything; maple-covered almonds, maple toffee, cookies, candy... unfortunately I usually only enjoy the first few bites, the sweetness is a bit sickening after a while; I even refer to maple toffee as diabetes on a stick / to contradict myself immediately: a weird obsession with Fruit Loops for breakfast (I blame the buffet... I never act normal around food if there's an all-you-can-eat option) / the Château Frontenac in Québec reminding my of the ending scene in 10 Things I Hate about You when Letters to Cleo is playing on the rooftop (in fact they filmed it in Tacoma though, at Stadium High School; but the building had originally been designed as a French château/luxury hotel before turning it into a school) / I didn't care much for Québec cité but our hotel was definitely a plus factor: there was a pool, a sauna and an outdoor hot tub so obviously we spent far too much time in the hot water, enjoying a cold beer, watching the old naked guy in the window across the yard watching us / almost being able to count the layers in the ice accumulating at the bottom of the Montmorency Falls - I think ice is such a fascinating, underrated material; maybe I should go to Iceland and find a good glacier (oh, and I didn't mind the rainbow there either) / a small indoor lake with a surface like a mirror-glaze cake / the huge drawings of a hut overrun by snails - almost like an oversized page of a graphic novel - at the biennale de Québec //
Starting to realise that I do have a plethora of skills and talents other people can only dream of; maybe I should start putting them to good use. Sometimes I notice how easy certain things are for me which also means that I take a lot for granted. I should be more grateful and appreciative, I suppose.
Celebrating my uniqueness. Is there a better place to start wearing freaky clothes and hairstyles than Montréal? Not really. Bless strange pigtails, 90's sunglasses and strong opinions.
The weirdest song has been stuck in my head for days now. They must have played it in that Tex Mex restaurant on Boulevard Saint-Laurent and I subconsciously remembered it?
Inuit art. I love their sculptures made from stone, bone and wood. I don't know if they're meant to be comical but if they are I absolutely appreciate the Inuit's sense of humour.
Getting tipsy on red wine and vermouth in the airport bar with Maxim and Martina. I guess the others thought we were stoned since they knew we had walked past a SQDC in Montréal in the afternoon. I liked spending time with Maxim, finding out about his personality and unexpected beliefs. Still waters run deep. We might actually visit the Buddhist Centre in Munich together. I wonder if they can finally teach me how to meditate. And Martina has a heart of gold. I hope we'll keep in tough. I hadn't expected that of all the people in the group those two would turn out to be the ones I'd click with.
Noticing how lush and green Germany is all of a sudden. I could already see the change from above looking out of the plane window. I like seeing this as a big difference after being gone for two weeks because I don't appreciate it quite as much when I see it happen gradually.
Coming home. Enjoying sweet solitude. Sleeping in my own bed. With heavy blankets. Enough space. The perfect smell. So much better than hotel beds. Returning to my favourite breakfast routine (oats, apple, blueberries, nuts, almond milk) after gaining at least two kilograms on horrible breakfast buffets and poutine.
The insane amount of wisteria growing along a neighbour's balcony and house front.
My first time in Herkulessaal at Munich's Residenz - for a pretty special occasion, too. Chilly Gonzales playing together with some guest musicians. Gosh, I LOVE him when he's rapping. Such a talent. And a Canadian! He's actually from Montréal. What a coincidence.
mar 26 2019 ∞
may 5 2019 +