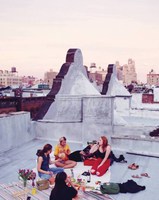 "Hating things: it tended to tell you who you were. Loving things rarely did." / "Joni Mitchell was sitting in the doorway, placidly licking a paw, the feline equivalent of a bitch filing her nails." // Hermione Hoby's Neon in Daylight was such a good read, I thorougly enjoyed it. Hoby has such a nice writing style. I didn't know anything about the book when I picked it up from a library shelf, I just liked the cover and the blurb. Literary luck!
More books: Kurt. I don't know what it is about Sarah Kuttner's writing but it always hits close to home. I loved the description of the old house, the garden work. It made me want to move into my grandma's house with a sad boyfriend, watering the roses with a hose on a lazy summer evening.
Cat eating corn. Feline ASMR. I also spent an evening watching all of these oddly satisfying and soothing videos.
"Training war die Gelegenheit, den Körper an Schmerzen zu gewöhnen." (Takis Würger, Der Club)
Angela Carter's writing. Her characters, her plot-twists and magical realism. Most of all her incredible language. It's the same storyline I usually tell about my closest friends - at first I hated Nights at the Circus but soon realised that I actually loved it.
Fleabag and the priest. SO hot. As well as her jumpsuits and red lipstick. And don't even get me started on Kristin Scott Thomas' guest appearance.
mar 26 2019 ∞
apr 14 2019 +