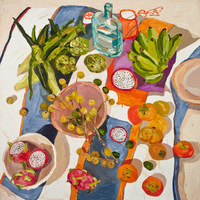 Do not stop at the wall looming before you. / Make a door - wide enough - not only for you but for others. / KEEP MOVING. - Maggie Smith
The day at the lake with Doris. Friday after school, celebrating the first afternoon of the holidays. Yoga and heavy flirting on the SUP. Touching, holding each other. Sharing the snacks we'd bought, coming up with a packing list for our sabbaticals. Creating inside jokes, listening to music in the car which I drove home during a thunderstorm. But we'd managed to leave the lake just in time so we didn't get wet. I made creamy truffle spaghetti when we came home and we "accidentally" started kissing instead of watching movies.
Singing Soli Deo Gloria - so dramatic!
A nice evening with red wine, Peter, Andrea and Tom. Getting to know people, inviting them over.
The MONKI swirly blue bathing suit. Pool camouflage. And the sparkle emoji necklace!
A lovely afternoon at Marlies' and Helga's terrace. Homemade baguette, delicious wild strawberries and I even got rid of my 9€ ticket!
Kind offers from friends to lend me money or let me stay with them if I come back to Munich during my sabbatical.
Walking to the lake with Sash and Lena. Swimming to the other shore (Doris: "Endlich am andern Ufer angekommen!"). Eating cherries, playing the llama card game.
First ideas for Doris' birthday present. I got her sparkle earrings as a reminder of my sparkly personality, my favourite graphic novel (This One Summer) and a SUP-themed Pixi book.
Getting things done, especially when it comes to subletting my apartment: I finally made a listing and published it online. One week later I even found the strength to sort through the e-mails and invite a few people over. Making final decisions, booking my flight.
Healthy breakfast with hazelnut butter (to make it a little less healthy - balance is key).
A fun evening with Raphael. Eating at Thao's deserted outside tables, playing darts, pool and kicker at FLEX. Drinking evil Vodka Bulls, hearing about his travels. Connection, touching, getting more familiar again.
Trying to help Frank find a therapist. Talking about all his issues. I guess I've got to return the favour now, huh... / Enjoying the sunset at Theresienwiese with a cool beer. Therap-influencing, deep talk, smoking and joking around.
That deep golden orange shirt I found - the colour made my skin glow. I've been thinking a lot about seasonal colour types and I suspect I'm an autumn. At least I want to be because the rich autumn colours are always my favourite!
A solitary afternoon at Maria Einsiedel. Swimming in the almost deserted pool. Being the only one brave enough to enter the Eisbach. Kreuzweise. A duck family passing by.
Lunch at Giorgia with the most amazing restaurant toilet I have ever seen (mirror cabinet!) and gorgeous decor. We visited Fujiko Nakaya's fog exhibition at Haus der Kunst and walked the scenic route through Munich's "French" quarter. Anika even found a free book she had been searching for.
My first time in Ireland! Margit gave me a late birthday present at the airport - moon phase ear crawlers! / Lots of rabbits outside Dublin airport / Exploring Galway - a free walking tour, friendly locals, good food and interesting things to look at / Charlie Byrne's bookstore - lovely vibes, I couldn't resist buying two night-themed books with very similar midnight blue and golden covers that looked gorgeous together / Getting the perfect hoodie ("Breathe deeply and embrace your emotions!") because I showed up in sandals and shorts - big mistake, Ireland is still quite frosty in the summer / The Atlantic walk over to Salthill, very rough and romantic; enjoying a whiskey and a pint at a cosy pub with live music / Margit's crush on the Irish Folk Music percussionist / Our two days with the rental car - driving along the Wild Atlantic Way was truly marvellous and we were very lucky - hardly any rain. On the first day we visited Brigid's Garden where I tied a wish for my upcoming travels on a branch and there were even tiny entrances to the fairy realm. We encountered friendly French bikers, explored crafts stores, tried not to hit any sheep. The landscape with the rough stone, greenery and lochs reminded me of the Scottish Highlands. We visited Kylemore Abbey and the Victorian Garden which was amazing. A chat with the friendly bus driver. Lovely dinner in one of the villages on our way home. On the next day: castle and church ruins, an old graveyard in the middle of nowhere. I made friends along the way - the cows were very suspicious but the ponies enjoyed their pets and kept asking for more. I frightened Margit when I walked too close to the edges of a cliff. Later we took the ferry to the smallest Aran Island and rented a bike. I can't even describe how beautiful everything was - one more clue, I guess I really need to live by the sea. Stone walls everywhere you looked. Stopping for cake. Breathing in the ocean breeze. In the evening we went to the Cliffs of Moher and I was a bit grumpy because I didn't understand why we had to buy expensive tickets just to walk around the cliffs but the fact that I was able to borrow a pair of binoculars to watch thousands of breeding puffins around the area made good for it! It was the first time I'd seen the cute flying footballs. Purple and orange sunset over the water on our way home. We actually stopped to take very cheesy pictures. I was a bit disappointed by Dublin but I liked the vintage shops, the rainbow flags everywhere. And of course the Old Library at Trinity College. Frozen Margaritas at a remodeled church made for a worthy ending of our trip. Best souvenir: Terry's Chocolate Orange.
Doris picked me up from the airport the next day and we went swimming. I paddled us around the lake. We read a Pixi from my Happy Kitty emergency kit. When we got hungry, we found one of the best Indian restaurants I had ever been to (somewhere in the Bavarian countryside - how?!) and I chatted with the owner whose family is from Rishikesh.
Hanging out in Frank's kitchen, meeting Fabi and Sonja again after what felt like an eternity. We still like each other. Import Export - we actually made it!
An afternoon at the lake with Bibi. Really good ice cream in Starnberg!
Kino Mond und Sterne at Westpark with Manu! Great movie and company - unfortunately I was very tired so I slept through parts of the film.
Getting Christian's birthday present at Boesner and the mediterranean supermarket in Werksviertel. I translated for an artist when I picked out ceramics glazes and she invited me to her exhibition!
Christian's birthday surprise: a craft beer tasting at a local brewery run by two Americans. The best thing about it was dinner afterwards - great pizza at a very chic Italian restaurant, tasty red wine, meeting Lena's favourite percussionist and spending the whole evening with Mathias. We only see each other once in a blue moon but whenever we do we have such a blast!
A cat on the subway!
Overcoming fear at the high ropes course. The ziplines were worth it! Happy about missing my 5b art classes.
A traditional Thursday veggie kebab with Doris, talking about her relationship status on a park bench, eating ice cream.
The outfit I wore the other day. Shopping my own closet. The black dress with white triangles, an army-green long jacket, plum lipstick.
Shopping at Flying Tiger: a terrazzo notebook, pastel glass straws, a "snack attack" box, glitter washi tape and some carabiners for my trip.
Using the Primavera Space Clearing room spray. I'd love to have a perfume that smells similar.
The fact that Kris Atomic has started making BookTube videos about her latest recommendations (and complete and utter fails). I've been monitoring her online presence ever since her early fame as an illustrator and photographer.
The tiniest snail hanging out on my windowsill after a thunderstorm.
Doris writing a little poem about me. Helping me with my severely deficient organisation skills and unwillingness to do things I don't really wanna do. Like buying hiking shoes (kissing in a tent in the middle of the store was an incentive) or giving me deadlines for inviting people over for an apartment viewing.
Amy, who is such a natural cheerleader. She told me how talented she thinks I am (and how cool my nails always are, how young and pretty I look) - but I can only return the compliments because I admire how empathetic, reasonable and perceptive she is (she knew immediately when D. and I secretly kissed and I came back into the classroom, beaming). Her mum clearly did something very right.
jun 7 2022 ∞
aug 3 2022 +