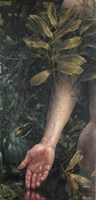 I've come to the realisation that I just fucking love Christmas movies this year. Emotional manipulation - I'm here for it.
Swimming. The first time in the water for months. Swimming laps in a nearly empty pool (thanks to 2G+) one Saturday evening for about 70 minutes. I just enjoyed it so much. Hanging out in the warm outside pool for a while, breathing fresh air. I felt great afterwards. Both my body and mind were at ease. I really need to find a quicker way to get these Covid tests so I can go more regularly.
Spekulatius almonds. Highly addictive with the true taste of Christmas. Oh, and obscure crisps flavours: salted egg and umeboshi.
A new toothbrush head with hard bristles.
Dreams about bookbinding, travelling, academia, mystery games, my old favourite students coming back, a library.
A change of perspective. Writing it all down. Figuring out my priorities. Trying a new approach.
I've just started watching American Gods and I have a feeling that it's gonna be really good. The first episode was immensely promising.
For unknown reasons: Pennies from the Heaven
My old favourite - salted coconut porridge - with persimmon.
A nightly bike ride just to breathe some cold fresh air before going to bed.
Being in the mood to sing.
Origami.
A very good Tuesday evening in the kitchen. Coming home from swimming. Making mapo tofu, drinking a glass of Bailey's on ice, listening to Pomp&Circumstance with a face mask on.
A bubble tea revival.
Buying a bamboo steamer for all the delicious baozi from the Asian supermarket.
I had to spend two more days at the hospital and I was lucky with my roommate again. This time it was 18-year-old Angelina with Colitis Ulcerosa. Unfortunately she had to have major surgery a few days after we met but I was lucky to share a room with her for a night. Also: my procedure went really well this time and I feel really good.
Solving a hard SZ Str8s at the hospital.
Swimming, then remote yoga with Manu.
Brussels sprouts and cheesy potatoes.
Folding complicated origami stars and working on my grannysquare blanket.
I just found out that the actor who plays Eddie in Dawson's Creek is actually Kate Hudson's brother.
Laura's style in the first Santa Clause movie. She looks like Mia Wallace. Very chic.
A proper cinema date with lots of sweet and salted popcorn and House of Gucci.
Breakfast in bed with Mickey's Christmas Carol.
Pub Quiz evenings with Margit, Dennis, Raphael and Wolfi. Highly entertaining.
A Macarena revival.
Madeleine Olivia's vlogmas videos.
Two pieces of good news on a Monday: there is a new night train connection from Munich to Paris and people with a booster vaccination don't have to bring negative test results for places with 2G+ regulations anymore!
Coming home. So cosy. Pampering, food, fairy lights, a shower with an ice cold finish and a loevly warm blow dry afterwards, cuddling in bed. Sometimes my apartment feels like a hotel suite these days.
It's crazy how good my exhausted body feels after an hour swimming laps.
Talking to Franzi on the phone.
The little birds finally found my fat balls on the balcony and sometimes come over for breakfast.
Starting a little dance while baking lebkuchen and coconut macaroons, listening to Christmas songs.
Visiting Manu. Yoga, a booty test, playing around with uv resin (I made a sparkly little moon); a herby present.
Swimming fast as fuck.
A mulled wine walking tour through Giesing with colleagues. My first time on the Nockherberg.
A luxurious porridge breakfast with Christmas spices, persimmon, dark chocolate, roasted almonds and hazelnut butter.
Taking care of two enormous feline fluffballs! Catsitting is the perfect way to spend more time with cats - you even get paid for it!
Margit and Dennis cancelled the pub quiz last minute and I was pretty grumpy because we couldn't find any substitute players but then I asked Darren to find me new teammates and it actually worked! Max and Laura joined me and Raphael and we had such a lovely evening! Great conversation, interesting questions... and in the end we WON!! (mostly thanks to Max who even KNEW the answer for the shots round so we smugly sipped our Bailey's / strawberry limes)
Without much hope for a reply I asked someone I follow on Instagram (but never met or talked to before) for advice on admission regulations for my upcoming flight to Mexico and she didn't only reply but sent me a video response from the beach! What. Now I really wanna go, the palmtree and the weather looked gorgeous.
Lots of fun with my class on the last school day before the Christmas holidays. I got lost of presents (mostly tea and chocolate but I also got TRUFFLE OIL!! I'm psyched.) We had hot drinks and cookies, exchanged gifts, sang Christmas karaoke, danced to the stupid Helikopter song and even had a limbo contest. Also, I santa-fied Kevin and made him a beard out of cotton wool.
Christmas dinner. Playing Krazy Pix. Receiving so many gifts from my wish list.
A giant potato chip (still obsessed with the salted egg and umeboshi flavoured crisps).
Ice-skating!
Going to Mexico was such a good decision! There was a bit of Covid-anxiety involved because I felt a bit sick around Christmas and didn't know if I would pass my antigen test for the flight but it all worked out perfectly and I had such a good time. Here are some highlights from the December part of my trip: Oskar (who gave me one of his pinata ornaments and drove me to the bus station) and his cat Mami at the guesthouse in Cancún / giant fruit juices from the market / a bike ride along Isla Mujeres; snorkelling (the bike rental guy had told me about a great little beach!) / enjoying the sunset facing Cuba (at least I thought it was the right direction) / Chilaquiles, tacos con huitlacoche y nopales, lime with everything, French toast / the incredible beach at Diamante K in Tulum; hopping along with the waves, feeling truly happy.
dec 4 2021 ∞
feb 12 2022 +