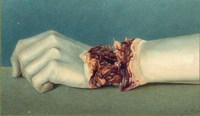 Creating art is about growing the world and increasing its reach, and it has more to do with the act of creation itself than what is actually made. Anything that animates us creatively in a positive way — be it the grand design of a great architectural wonder or the Big Bang of a child's drawing — is a re-enactment of the original creation story. Whether we realise it or not, making art is a religious encounter as it is our attempts to grow beyond ourselves that energise the soul of the universe. (Nick Cave on shitty art)
Seeing the old library guy having dinner table with his wife. They even lit a candle. How celebratory.
Writing a birthday message for Frank about my new beginnings and first days of the year.
Making my nails look as if I had dipped my fingertips into a jar of silver glitter.
How black and glossy blueberries suddenly become after being coated in my warm coconut porridge.
Shinto does not strictly divide the world between material and spiritual, nor between this world and an alternative perfect realm, but instead emphasises that intuitive spirituality facilitates the fusion and equilibrium of all realm. - Why Haruki Murakami is so very Japanese
Sporting a hickey on my neck like a basic 16-year-old.
Going new paths (on my daily walk).
Feeling really grateful for the habits I established last year. A daily walk, taking helpful supplements, flossing, hair and face masks before every shower. Cold showers! A reasonable bedtime. I'm incredibly excited about forming new habits this year! The first ones to tackle are meditation, strength training and a daily creativity practice.
Suddenly imagining the taste of strawberry sauce. Anticipating the first spaghetti ice-cream of the year.
Loving kindness meditation (!) and smiling meditation. Spotify's Wake Up/Wind Down podcast is really quite good, too.
Cracking the impossibly hard to reach spot in my back by twisting and stretching my right leg (who knew).
The first tulips of the year on my nightstand. I chose a dark yellow, almost ochre.
Sparkling water with passion fruit juice. All I could think of during the last minutes of a long and cold walk. Getting undressed. Stretching. Meditation.
Vivid dreams of diving. How I miss being underwater. At least I got to do it in the nightly virtual reality show, eh?
Walking in a winter wonderland. I hate snow but I do admit it's quite pretty when the whole forest is covered in white.
A friendly nod from the delivery guy with the amazing curls.
Running into the neighbourhood's wild cat. Giving him a good scratch.
My new salt crystal lamp. I love its warm light.
The random house on a street nearby with the word nest next to its doorbell. Is that really the family's name? Or just what they call their house? (I would totally get that as nest is one of my favourite words)
Kalimba covers. With cat. Wholesome.
Sinking my face into a pair of warm tracksuit pants which had been drying on the heater. The warmth and the fresh laundry smell were so nice.
Plucking icicles.
The fact that the sidewalks aren't quite as icy and slippery anymore (I hate having no proper grip when I'm walking).
A gorgeous animal atlas with really pretty drawings in one of the boxes with free stuff people often put out these days.
Sarah Wilson. I could hardly put her new book down and immediately started reading her book about anxiety when I was finished. In a way I feel really connected to her. What an inspiring woman! Another thing I love is how she structures her books. She merely numbers her paragraphs, some only a few lines long, some a few pages.
The taste of strawberries. It's hard to describe but somehow it lights up my brain? Can I say that?
Osteopathy. I don't know what she does or how she does it but Laura has magic hands. My body feels completely healed after a session with her.
Simply walking everywhere. I get my steps in and don't have to deal with annoying public transport or my shitty bike.
Peeking out of my shell: looking at people I came across on an early walk and saying good morning.
Little yellowhammer birds on my balcony. I've never seen them before around here. And the tiniest bird on one of my walks through the forest. Perhaps a wren?
Dreaming of India. Visiting a local family, inquiring about a "somatic reading" (whatever that is) but deciding that it was too expensive and watching them prepare food instead. Talking to the grandmother. Riding to their restaurant on the market in a little wagon together.
Lying in bed after taking a shower, bathing in sunlight.
Dorky donkey confetti paper tissues.
A very soothing video of a cat purring loudly got me through a lousy Thursday. I kept coming back to it every couple of hours and it actually helped.
I'm currently watching Chilling Adventures of Sabrina on Netflix. It was a bit hard to get into it at first because it's SO different from the series with Melissa Joan Hart I used to watch as a teenager but ever since that cheerleading scene where Sabrina and Ros perform to RUN DMC's It's Tricky I'm absolutely sold.
The other day there was a lady just standing at the edge of a field, watching her dog run around in the snow, enjoying the sunset. A very peaceful image.
More tulips: red ones this time, a smaller variety. I loved watching them blossom.
Collecting ideas and yellow objects for a yellow-themed letter.
These baby blue and pink sunrises I have been seeing lately.
A new magic trick: summoning dogs by simply holding their gaze for a while.
I hate snow. I really do. But I love how bright the light suddenly is. I smile apologetically at people shovelling snow when I walk by. The other day I stood under a branch when a couple shook the tree and let the snow fall down. I would have been mad if it hadn't been for my umbrella.
When the first and last bits of light colour the tree tops in a warm, gold and orange colour during sunrise and sunset.
The smell of my armpits (have we all stopped using deodorant during lockdown and are suddenly able to smell our armpits or is it just me) made me remember kids carnival parties at our local sports club. We wore cheap costumes made from synthetic fabric and were all super sweaty from running around all day as princesses, vampires and cowboys on a sugar high.
Learning the reason why snow melts faster under trees.
Listening to the New York Times' The Daily podcast. More speficially the Sunday Read (which mostly seems to feature the topics I'm really interested in). There was the wonderfully whimsical episode about the Cloud Appreciation Society. I'd never realised that Joni Mitchell's song Both Sides Now is about seeing shapes in clouds ("pareidolia"): Rows and flows of angel hair / And ice cream castles in the air / And feather canyons every where / Looked at clouds that way. Then there was this other episode about Moonstruck, a movie starring Cher and Nicholas Cage. At the end they keep playing the film music for a while before the episode slowly fades out. I was walking down a snowy alley and felt like the heroine in a late 90's movie (which I could also describe as end-of-century now, how peculiar).
Pelvic floor training. I have more strength, I'm taller and it somehow keeps straightening my back? I'm really impressed of how effective it is and am planning on learning more about the Cantienica method.
I know I'm late to the game but last night I watched the whole first season of Emily in Paris in one go. I needed something to cheer my up and, oh my, did Emily deliver. Well, not really her, but Paris. Everything about the serious can only be described as delicious. The food, the man candy, the fashion, colours and backdrop. While watching I kept thinking about outfit planning, exotic cuisine, roadtrips, kissing strangers, enjoying the good life. Oh how much I miss it. I feel awfully trapped in my apartment these days. One last thing I need to highlight: Sylvie, played by Philippine Leroy-Beaulieu, who is the real star of this series for me. She is just SO chic.
More light! I actually stand a chance to get home before sunset now when I head out late-ish for one of my daily walks.
A good talk with Lena. Home-made ramen. Watching en episode of Planet Earth and Blue Planet each.
Sourdough pizza with goat cheese, honey and fresh truffle.