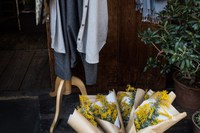 Smule (Buffy, Fuck her gently)
manu crazy time kid who is so tired that it gets gaga, burger king, chill in bed, oh yeah, smule video making watching manu
babylon berlin sundays, seeing SASH for the first time in months MAKE OUT SESH
sleeping with the lama
procreate apple stylus digital art projects for website owls omg so creative so many ideas, actually getting the pen for free
strawberries and cream
my biiiirthday, cake with candles strawberries cream
present from lexi and yanch very cutely illustrated game
ukulele learning chords playing cup song, project painting on it consulting yanch
vacation is going to happen as it seems
macramee
flower fight, amazing interiors, architecture
blind taste test pocky kitkat
enjoy your trip documentary
making burgers on my birthday, kittiiiie
manu on my birthday: vietamese food yum
grwing crystals on rocks
Taking sneaky pictures of interesting people on the subway. There was a woman dressed in all red and when she had left another lady sat down in the same seat - dressed in all yellow! Also, there was a girl wearing mismatched socks. A cute dog. A really stylish woman with some kind of kimono coat, a white dress, black studded cowboy boots and a fanny pack.
Playing Role Models with Maike and the others. I love the categories they came up with. And the weird verdict at the end of the game like: Kat, the "not so bumbling musical diva".
June:
I visited Dennis and Margit who have the BEST couple name ever - Dengit, as in dang it! They have a really cool house with ALL the gadgets. We played Bananagrams (I won! It's a really cool game, I guess I gotta get it as well) and Krazy Words and had a great BBQ lunch. Then we played Beat Saber in the basement. I was so good at Fuck Her Gently and even sang along. Also, the electro swing version of I Wanna Be Like You from the Jungle Book is fantastic. I love the song and it has a great choreography as well. But woah, my muscles were so sore the next day. Playing Beat Saber definitely counts as sport.
The shrub outside my windows is in full bloom; it must be some kind of Deutzia. I'm looking forward to the white little blossoms every year, it's gorgeous. The lupins are in bloom as well. And I have beans and radishes, peas, sunflowers... very lush and overgrown out there.
Baby pink wrapping paper with golden iridescent glitter.
may 6 2020 ∞
jun 2 2020 +