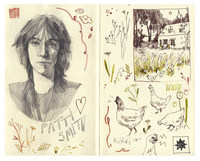 To buttress - increase the strength of or justification for; reinforce / to mollycoddle - to give someone too much care or protection.
A letter from Nina. One of those weird internet connections. Not my first one, certainly not my last one.
Frank's DnD backstory reads quite insightful/poetic to me as he has taken so much from his life. He might have done it without intent but it's quite obvious to me. I've agreed to make a character sketch for him. I'm looking forward to the challenge but I'm also afraid of starting the project because obviously I want it to be perfect. Anyway so the other night I sat at his kitchen table and started drawing a facial composite for his goliath. Lots of sketches actually with him giving me some prompts and ideas. I think he loved watching me do my magic. What a peaceful moment.
Applause from some students. Simply for entering the room. They must really hate their English teacher, eh?
I've started forming the habit of drawing tarot cards on a full moon and new moon night. It helps me set an intention for the following two weeks. So on the first of October I drew the Queen of Wands to represent me and I'm loving it. It's the perfect choice.
The fabric dyeing process for the Plot exhibition at Haus der Kunst
Inviting warmth into my life. Wearing appropriately warm clothing. Even hats. Drinking tea all the time. Turning the heating on even though it's only September. Warm breakfast. Ayurveda inspiration. Hot baths. Thinking about buying an electric heating blanket for my bed.So far I've been taking a hot water bottle to bed with me pretty much every night.
Finding one of those Barts woolly animal hats online. This one came with tigers. And the seller sent me a cherry marzipan teabag. I enjoyed it on a cold and rainy Saturday morning.
FAQ: The Status of the Shits Women Have Left to Give
Reading the final scenes of Leigh Bardugo's Shadow and Bone trilogy. I actually took the wrong bus one evening and ended up in front of one of the Pinakotheken instead of Villa Stuck. I must have been quite immersed. I'm very happy with the ending. I mean, the main character is walking around the house barefoot with the smell of fresh paint following her, her hair loose. What a wonderful image.
The wind blowing through the maple trees outside my living room window. I'm just going to quote a Wikipedia article to explain what happened next: The distinctive fruits are called samaras, "maple keys", "helicopters", "whirlybirds" or "polynoses". These seeds occur in distinctive pairs each containing one seed enclosed in a "nutlet" attached to a flattened wing of fibrous, papery tissue. They are shaped to spin as they fall and to carry the seeds a considerable distance on the wind. People often call them "helicopters" due to the way that they spin as they fall. During World War II, the US Army developed a special airdrop supply carrier that could carry up to 65 pounds (29 kg) of supplies and was based on the maple seed.
Monsieur Wiener - I've paid him a visit when I had problems with my analogue Pentax camera!
I don't know why but one dark Friday evening I slipped into the empty church at Odeonsplatz. I loved the peaceful atmosphere, the specific smell and the red church candles flickering.
I loved meeting Flo. We had such a great time, constantly joking, talking about this and that. Sailor Mercury, Hades, our family. His wink. He said that I had been exactly right but in the end apparently I wasn't. It stung because he had been one of the rare guys in the last months (years, actually) I actually liked. Oh well. I guess it wasn't meant to be after all. This is what the Universe had to say about it the other day: There are no accidents. If it's appeared on your life's radar, this is why: to teach you that dreams come true; to reveal that you have the power to fix what's broken and heal what hurts; to catapult you beyond seeing with just your physical senses; and to lift the veils that have kept you from seeing that you're already the person you dreamed you'd become.
A surprise call from Ann-Katrin.
Sweet chai tea with milk.
The bright moonlight making the neighbours' roof look like fish scales.
Forensic linguistics. I listened to a podcast episode about the Unabomber who was only discovered after his brother had noticed some stylistic irregularities in his manifesto. You can't eat your cake and have it too.
Autumn leaves. Especially when it's just the outer leaves turning red or yellow while the rest of the foliage is still green.
Sitting next to my ten-year-old student Ella on the bus on our way home on a Friday afternoon. She's a very chatty Gemini and even though her self-importance and constant talking can be quite annoying I've kinda taken a liking to her.
A bunch of Alstroemeria in my dark green glass vase on the desk. A pretty image.
I still appreciate how beautiful my LuLuLemon thermos bottle is after all this time.
I should probably mention my new hair (extensions). Well, it looks absolutely gorgeous from the front. But I already know that I won't get them again because you can see the glue in a few places, it's quite hard, often painful and feels unnatural. And of course it's much too expensive.
Baby carrots with King hummus.
My lunch dates with Becky.
Making my favourite sour thai curry. With rice noodles. And peanuts and cilantro. Yum.
Starting to work on a big soapstone sculpture. It's going to be a hand! I love it when I have a group of calm students. It allows me to work on a project with them.
Making delicious pumpkin lasagna.
Visiting Manu's mum. Making plum dumplings together. A fun afternoon in their kitchen.
A very cosy Sunday. Waking up at 5:30am. Watching Practical Magic in bed. Having a slice of pumpkin lasagna for breakfast. A sudden urge to get out, dressing up to keep out the cold, going out, early, streetlights still on. A walk through the woods. I loved how calm everything was. Being out before all the others had a chance to disturb the stillness with their kids and dogs and bicycles. Making lebkuchen. Lots of pecans. Having a nap. Writing a letter. Drawing weird mushrooms and bugs.
Autumnal smells. The moist smell of the forest ground, mushrooms, the smell of chimneys on a cold Sunday morning. Incense, gingerbread spices. Facial oil with lavender and iris. Roasted pecans.
A crafty day. I made a haunted house, some ghosts, spiders, bats, skulls and pumpkins out of paper.
Schlurp.
Meeting Frank in front of Residenztheater. The whole square was empty, he was the only person there. Waiting for me. Looking up to the opera roof. What an impressive building.
Talking about living life in story mode and action mode. I feel so stuck in action mode at the moment and desperately want to switch to story mode. Fantasy, magic, coincidences and meaning.
Spicy pumpkin recipes in the current issue of Schrot und Korn.
Rice and hazelnut milk as a bedtime treat.
Collecting autumn leaves. Chestnuts, acorns, feathers, beechnuts. Making a little autumnal alter with some crystals.
Thursday mornings. So much time for myself. Lots of tea, warm breakfast.
Treating myself to massages and nice facial creams and serums. Ya Yah is such a gifted person. I love her massages the most. The other day I also got a facial for the first time in many many years. It was nice to be wrapped in an extremely fluffy blanket. When the bright lights were on I could see different colours after closing my eyes and imagined being at a tropical beach. Unintentional ASMR sounds from the rubber gloves. Cosy.
Spicy winter tea in my new thermos bottle. The steam swirling up from my favourite mug (the moon phase mug I bough in Canada).
Buying cheap sparkly stickers, washi tape and stamps. Just because.
Pecan nuts are the BEST. Crazy delicious.
Porridge with coconut milk and mango for breakfast. Persimmons. Candles in the morning.
Gloomy twilight. The dark hour right before sunset/sunrise. Spooky black silhouettes against the ink blue or greyish white sky. Fairy lights. Memories of spending Halloween at Greyfriar's Kirkyard in Edinburgh.
Finding yet another woolly hat for my collection. This time with pheasants.
Deltavenus' Instagram feed.
Cutting open a fresh lime.
Happily singing along to my two favourite mantras (Jai Mata Kali / Om Gam Ganapataye Namaha) while making apple galette. Trying to harmonise in different ways.
A very surprising call from Claudia. She ended up in my kitchen, drinking half a bottle of wine.
A lovely Sunday with Sash. A walk through the English garden. Watching the waterfall, falling leaves, backlit by the afternoon sunlight. Haus der Kunst. Getting in for free (art teacher bonus). I really liked the Michael Armitage exhibition and the enormous dyed curtains in the hall. Franz Erhard Walther's Dust of Stars autobiography was impressive as well. I just ordered the book online; I'm looking forward to reading it. We also had a drink at Goldene Bar and enjoyed a late lunch at Baoz Bar.
Becky leaving me a lovely note and an English magazine on my desk.
Fink's Knödelstube with Lena and Sash. We had 13 different kinds of dumplings. Heavenly delicious.
I came to realise that mornings are my favourite time of the day. I love gloomy, dark sunrises and my usual productivity highs.
Writing limericks with the kids.
Getting lost in the woods after dark which might not look like a good think at first glance but I uncovered a little secret - some bee hives I had never seen before!
A mild obsession with The Corrs' song Old Town. I didn't even know where it came from. It's not a song I've ever actively listened to.
Learning about sesame plants. Another one of those plants I expected to look completely different.
I can smell mushrooms. On Saturday morning I went to the forest again early in the morning and whenever I would get a whiff of mushrooms and look down there they were.
Dog owners wishing me a good morning on my walk. Interestingly only men, the women tend to ignore me.
Wicked! - Modern Art's Interest in the Occult. Learning about Leonora Carrington.
James' chameleons in art class. He drew one representing each of his family members. He was the one licking a bat. Bold.
Buying far too many books. But I found out that Naomi Novik just published a new novel about a school of magic. And within two days I came across the writer Ursula K. Le Guin three times so I took it as a sign and got one of her books as well.
Prepare for the Roaring Twenties - The human desire to socialize will survive the pandemic.
A deep talk session with Jonathan about getting old, having children, self-worth, dating, obeying rules.
Finding my favourite pair of jeans on Kleiderkreisel for a fraction of the original price. And a baseball jacket with a Strange Ladies Society print on the back.
A walk in the forest before work. Something I've never done before I think. So good for my nerves, really.
The art of decision-making.
Joy praising me for my authoritative voice (effectively making the fifth-graders do what I want).
Decorating the classroom with the fifth-graders. I love my haunted house on the window pane, their lovely spiders, ghosts and bats. I should probably mention that our class mascot is a cute spider named Crawley so we're all quite into spooky stuff. On the last day before the holidays we all showed up in costumes, played a Halloween quiz, listened to creepy music and I brought some candy, too. Fun!
Meeting the gang on Halloween. Japanese-inspired dinner and a board game.
oct 2 2020 ∞
nov 2 2020 +