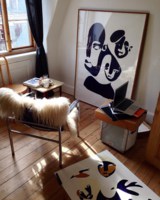 Waking up in a new decade with David Bowie watching over me.
Well, we slept in a Bowie-themed hotel room. Still, good omens, eh? Snuggling with Andre, going wild on the hotel breakfast. Walking down to the city in the sunshine. Climbing up to the castle grounds. Sitting by the river, his head in my lap. I loved everything about it. The sun, the water, playing with his hair.
Watching the entire first season of Spinning Out in one go (Bipolar disorder AND figure skating? Yes please!) Ordering in surprisingly good vegan pizza (for future reference: Tony's Pizza Catania).
Making delicious sour and spicy coconut soup. And my first sourdough bread. And vegan blood orange raspberry cake. I'm seriously considering a career change. I would love to spend all day in a kitchen, preparing food in peace and quiet.
Robin Sloan's novel Sourdough. It's about baking, human connection, foreign scripts and cultures, etymology, escaping the life that doesn't make you happy. I liked it a lot. The author even invented an entirely new language / type of music for the Mazg, a fictional maritime nation from somewhere around eastern Europe. A short passage I liked (Louis is presenting her bread in the Ferry Building): Seven judges sat in a line at a long table, our women and three men, swaddled and comfortable, wrapped in scarves and caftans. Plain fabris, generous cuts. They had different-colored skin and different-colored hair, but they shared a satisfied plumpness. It looked like a committee of harvest gods drawn from all the pantheons. All except one, seated at the end of the table, who seemed less Demeter or Dionysus, more Hades. Her hair was shiny and slicked back; she wore a slouchy black leather jacket over a shimmering black T-shirt. Maybe she was the token goddess of death, and also of street fashion. Welcome, the gods murmured together. What do you have for us today?
Andre making pancakes for me. Flipping them in the pan with one hand. Perfect party trick.
Dreaming more often. About a dog losing its forelegs. About a surgeon hitting on me after telling me I had a tumor. An adventure story featuring picking locks, drugs, spiders, sailing and pirates, foreign countries and weird characters. A cruise through Russia, headed to St. Peterburg. The feeling of a school trip on a boat with bunk beds and all, watching the night sky through the ship's roof. Incredible darkness, sparkle, almost like fireworks.
Meeting Maxim's wife Kristina at an ice hockey match. I really like her. She's a violinist and pianist. And someone who can discuss the concept of art while watching a sports game. Nice.
The very best breakfast option: apple cinnamon porridge with berries, hemp seeds, flax seeds, cacao nibs, some nuts.
A sunny Sunday. Sitting outside café Münchner Freiheit eating beetroot and poppyseed ravioli with Bibi after seeing Ronja Räubertochter at Residenztheater.
Returning to SAUNA for the first time in years. I forgot how much I like that club. It's hot, it's full, it's fun. Tom and I felt like employees because we ended up taking care of everyone's coats.
Kristen Roupenian's short story collection Cat Person. I'm usually not a huge fan of short stories but hers were entertaining, so weird, something completely different.
Learning about the Swede Hilma af Klint, possibly the first person (woman) who created abstract paintings; even before Kandinsky.
One Friday morning I saw a driver's ed car from my home town in front of Villa Stuck. And I could've sworn that it was my old teacher getting into that car even though it was a different company's. I actually dreamt about Mike that night. Taking me to work, watching me drive through a crazy city with Indian cult dances, a festival, a vegan buffet at the education centre; making me compete with another student, a girl from the US? Such a lovely, creative and colourful dream. Also: I think I'm deeply influenced by father figures. It's a thing. My old German teacher. Manu's dad. Now Mike. Huh.
Having friends over. Playing the CAT game!
Talking to Sarah about how teachers ship certain students / think they should be together. Waking up with an idea. Suggesting to do some matchmaking for Valentine's Day.
Kanzi apples. Crisp, sweet, fruity. Delicious.
Meeting Lorena from Argentina. She's my language tandem partner since I just got serious about learning Spanish. I've started using Duolingo again and I got some exercise books, too. El gato bebe la leche!
When I just feel the urge to create something. Which could be a drawing in my sketchbook or getting out of bed to make a yeast dough to be turned into pizza later...
Learning about daisy chains. A daisy chain is a number of computers or pieces of computer equipment or software that are connected to each other in a series. But they totally took this figure of speech from the necklaces everyone used to make from daisies as a child!! I love how something as charming as that describes such a technical concept.
Lena writing me another letter. Her husband is an astro-physicist so she told me how the usually very bright star Betelgeuze just started getting darker and darker which could mean that it'll explode soon and create a supernova! Which is crazy. It will be visible for weeks here on Earth and you need to protect your eyes because the brightness would hurt your eyes.
That woman with the supervillain eyebrows I saw on the tram one morning. She just looked evil even though she had her eyes closed and all her face muscles relaxed.
Lorena and me teaching each other dirty words in Spanish/German at the library.
Playing with acrylic paint, creating a marbled effect. Building a castle out of clay.
That dream about an underground river in a fascinating cave system with amazing rock formations and an eerie glow. Walking along a long, narrow pontoon over a big lake in the darkness. Fishing remnants of dead people out of the water (like my grandma's finger). Somehow I consulted my mother and her neighbour Maria about this. So many stars. Both settings reminded me of places I've seen in Mexico. Later there was a bit about time pressure and a bathtub full of blood and paint.
Meeting Luise, Laura's tiny dachshund puppy, for the first time. She kissed me. With tongue. Obviously. At Laura's party I talked to some of her friends and Patrizia's boyfriend. I accidentally got really drunk and went home early.
Sex Education on Netflix. Gillian Anderson just got more attractive with age. How is that even possible? I love her outfits but also how the costume designers dressed Jackson's mums. Great style!
Listening to music with Frank. Making anagrams with Scrabble tiles for each other. Listening to music, slightly high.
A pub quiz Monday with Margit, Dennis, Marina, Steffen and his weird girlfriend. (Semi-)friendly banter and an honorable third place. I just love spending time with these guys.
Anne's facial expressions in the graphic novel version of Anne Frank's Diary.
Cooking lunch together and watching Little Joe at Arena Cinema with Lena.
jan 3 2020 ∞
feb 4 2020 +