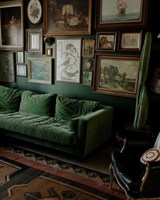 Tell me did you sail across the sun / Did you make it to the Milky Way to see the lights all faded / And that heaven is overrated
The lyrics to Drops of Jupiter. Reading about the story behind the song.
The magic of a fresh start.
A long walk, getting lost in the wood (again - I really should be more careful when I'm out and about after sunset). Collecting branches, ferns, autumn flowers. Yoga, a shower, making dinner in dim light. Watching the Take's video on the witch and some of my favourite ASMRtists. Eating almonds with Christmas spices. Lying on the heating blanket with the fairy lights on. What a cosy Sunday.
Eating an old breakfast favourite - blueberries, raspberries and apples with the usual cereal mix and almond milk.
The hardware store. Choosing the right wood, pots, plants, tools. My kind of paradise.
Interesting orchestral music in the latest season of Fargo. And Jessie Buckley is pretty rad I must admit.
Compiling a playlist with soft 90's music. It's a vibe. Think Notting Hill and Practical Magic, Gilmore Girls. The Corrs, Faith Hill, Sixpence None the Richer.
Learning about the concept of limerence.
Telling Frank about some positive observations I had held back. It's still hard for me to be nice to him.
Stepping on a puffball mushroom and some snowberries in the forest. Bursting huge impatiens pods.
A walk over the forest graveyard after dark. It was lovely - no people, lots of white and red candles from All Hallows. The drawback: they had already locked the gates when I was ready to go home so I had to climb over the barbed wire fence and ripped my pants and jacket.
My new bookshelves. Frank helped me put them up and they turned out so much nicer than I imagined. I spent two mornings decorating them. Getting new plants (yes, even more, I do have a problem I admit). The add depth to the room and make it look so much more put together. Very happy.
Foggy weather.
Some excellently creative US-election tweets.
Kids with St. Martin's lanterns on my evening walk.
Getting a bowl at Motel a Miio. Receiving a complimentary tote bag which is yellow, huge and printed with abstract patterns. I love it!
Porridge with coconut milk and a little salt.
Watching The Queen's Gambit inspired me to learn chess. I'm completely obsessed. Frank taught me the rules, Chris taught me some theory and I even played with the kids at school. Arje used to be in a chess club! Who knew.
The new season of The Crown. A delicious treat.
Walking towards the sunset, listening to a podcast about poetic children's literature (imagine the sounds of a skyscraper scraping the sky, a little blue flower growing, butter melting).
Liquid BHA exfoliation. I've had quite a few good skin days lately.
Geocaching! At first it was super frustrating because I didn't find anything even though I was in the right spot. But then I tried again and was able to log 4 caches in one weekend!
Sunrise walks in the forest. Frosted plants, the sun shining through the trees.
Finally meeting Simba, a neighbourhood cat. I always see his little house in the driveway but it took weeks until I finally met the owner one early morning. A beautiful tabby cat with green eyes.
My mum sent me videos of me as a toddler. Hard to imagine that the little girl on the screen is really me. But I was rocking a really cool headscarf! And my mum looks so young and beautiful. My dad has been dead for over 10 years now and seeing him in these videos from about 30 years ago distorts my memory of him even more. I'm not sure if his voice sounds different because I don't remember correctly or because it changed over time. But he looks so much like my brother, it's eerie.
The subtle power of changing your identity.
My podcast episode ending right when I arrived at my house. Perfect timing.
It's always darkest before the dawn. Waking up to a beautiful starry sky in the early morning. Doing yoga, then going for a long walk at sunrise.
Sweet and juicy pears.
An IKEA afternoon with Margit. Sharing veggie hotdogs, talking about our future in the car.
Watching the sunrise from my desk with the first snow covering the rooftops. Chimney smoke, everything tinted a frosty blue.
The fact that the happy-go-lucky Austrian with the feudal name bought a mug with my name on it, just because.
Friendly banter and deconstructing chlichés with a weird Frenchman.
Getting my hands dirty. Playing around with paint. Just pouring it on a canvas, making swirls, going in with wooden sticks and my fingers.
Podcast walks. There is this fantastic podcast episode with Deepak Chopra. I felt so inspired and happy after listening to this. Feeling super energetic. Relaxation exercises and sitar music. Yin yoga (I discovered Mady Morrison on YouTube - she has such a pretty living room, now I also want to paint my walls black or midnight blue). Getting in touch with my emotions.
I'm so grateful for my interest in learning and trying new things sometimes. I mean is there anything better than learning something new? Wikipedia deep dives are the best. Related: I thoroughly enjoy @depthsofwikipedia.
The gorgeous purple and blue flourite disk my mum sent me for my name day.
BHA liquid enzyme peeling from Paula's Choice. Makes my skin so smooth and clean. What a revelation.
Sourdough bread with avocado and shockingly expensive truffle cheese from Manufactum.
My new brass fountain pen. With an extra broad nib and forest green ink. I love seeing the wet paint dry on paper.
The Stadtkind toy store at Marienplatz. They have such a great selection.
Jonathan visiting me at home. Him in my armchair, me sitting cross-legged on the desk. Inspecting my plant and mineral collection together.
The owner of the Turkish supermarket just taking his damn time on a frosty day. I kinda love his approach.
Smelling freshly cut wood.
A delicious Ottolenghi recipe. Stuffed eggplant rolls with spinach and paneer, roasted in coconut dal.
Snaps is the name of the game (a parlour game I heard about in The Crown).
Finding that yellow hairclip on the forest path. Little signs from the universe.
nov 2 2020 ∞
dec 11 2020 +