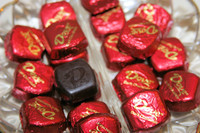 Believe in yourself.
Shut out the world for just a moment.
Make the most of everyday.
Do not look back and ask why, look forward and ask, why not?
Believe the best in others.
Listen to your heart and dance.
Be true to yourself.
Live your dreams.
Laugh, laugh, and laugh some more.
Be good to yourself today.
Enjoy life's everyday gifts.
Close your eyes and relax.
A special moment deserves a special chocolate.
Smile! It's contagious.
Be spontaneous.
Share your DOVE Dark with someone new.
Think without boundaries
Send your best friend flowers.
Share a chocolate moment with someone you love.
Take a deep breath.
Start a good habit today.
Learn to say "I Love You" in a different language.
Failure is only the opportunity to begin again more intelligently.
Practice patience as a means to an end.
Live in the present, forgive your past.
Go ahead, have another :-)
Do a little more each day than you think you possibly can.
Find little ways to make part of your day like a day off.
Chocolate therapy is, oh, so good.
Let chocolate warm your soul.
Take an extra deep breath whenever you need it.
Steal 5 minutes for yourself today.
Simply be, rather than do, for a moment.
Think of something that makes you laugh.
Life is precious and an opportunity for you to make every moment count.
Slow down, take notice, savor the moment.
Take time out for a catnap.
Love is the master key which opens the gates of happiness.
Indulge in dark.
Try something new tomorrow.
Love like there is no tomorrow.
Compromise is a sign of strength, not weakness.
Perseverance is a synonym of victory.
Celebrate the small victories in your life.
A smile is the best accessory
Shopping makes everything better!
If you fall down 7 times, get up 8.
Sing out loud! Who cares what you sound like?
Treating yourself is never wrong.
Keep moving forward; don't look back.
Accentuate the positive.
Happiness is one bite away.
Believe in yourself and everyone will do the same.
Inspire others to be their best by being your best.
Just being there and listening is friendship.
Think without limits.
Forget the potholes in the road and celebrate the journey instead.
Face up to fear, every challenge is a blessing.
Always follow your heart - it's never wrong.
Wear that perfect dress tonight!
True love is a bond that lasts forever.
Share a chocolate moment with a friend.
Seek out small indulgences for yourself.
One's best success comes after one's greatest disappointments.
Follow that dream wherever that dream may lead.
Let your light shine, the world is watching.
Even small celebrations deserve a dance.
Give of yourself to someone who needs you.
Enjoy the silky smoothness of DOVE.
Enjoy your DOVE and let your mind unwind.
Break the mold, be extraordinary!
Think of every day as a Sunday.
Remind yourself that it's okay not to be perfect.
Smile when you want to, cry when you need to, laugh whenever possible!
Be a role model to someone.
Patience is a virtue.
Happiness is an inside job.
When you embrace the positive, you shine!
Carve out a little moment for yourself today.
Moments like these need to be savored.
Wisdom grows with age.
Life does have "do-overs."
Love many, trust few, & always paddle your own canoe.
When you give with joy, joy is your reward.
Try to see the humanity in everyone you meet.
Keep looking forward - new adventures lie ahead.
Embrace change - it may be a blessing in disguise.
Do something for someone less fortunate today.
Say "I love you" every day to your loved ones.
Shape the future by dealing with the present.
It's OK to not do it all.
Create a little controversy.
Indulge in the moments that matter most.
Believe in love at first sight, just in case!
Enjoy this moment!
Worry wastes wisdom.
Live from your heart, it will never steer you wrong.
Shoe shopping is therapy.
Every woman is a super (role) model.
Look for love in unexpected places.
Live life for the experiences, not for possessions.
How perfect a day can be when you think positively.
Be the silver lining in another's cloud.
Embrace change - it may be a blessing in disguise.
Stop and enjoy the chocolate aroma.
All you really need is love, and a little chocolate doesn't hurt.
Life is Good.
Forget the rules and play by your heart.
Renew your sense of discovery.
You make everything lovely.
Dazzle your sense of flavor.
Your smile is your best accessory.
Chocolate therapy is "Oh, so good."
The more you praise and celebrate your life, the more there is in life to celebrate.
Stir your sense of pleasure.
Take a moment for yourself.
Take time to notice the color of the leaves changing.
Someone is thinking of you right now.
Love without rules.
Sing along with the elevator music.
Remember the simple pleasures in life.
Indulge your every whim.
Make time for yourself.
Live your dreams.
Get a good night's sleep.
Feel the sun on your face.
Make every day a holiday.
Happiness is in the heart, not in the circumstances.
Decorate your life.
You make everything lovely.
Lose yourself in a moment.
Remember your first everything.
Keep the promises you make to yourself.
Create your own spa.
It's definitely a bubble bath day.
Take good care of yourself.
Treat yourself today.
Indulge your sense of amusement.
Smiling is free.
Indulge in dark.
Climb high, climb far... your goal the sky, your aim, the stars.
All you really need is love, and a little chocolate doesn't hurt!
You are exactly where you are supposed to be.
There's a time for compromise. It's called "later."
Discover yourself.
Take time for yourself today.
Love yourself.
Be fearless.
Dazzle your sense of flavor.
Get a good night's sleep.
Do all things with love.
Remind yourself to relax.
Encourage your sense of daring.
A good love is delicious, because you can never get enough.
mar 14 2009 ∞
may 11 2011 +