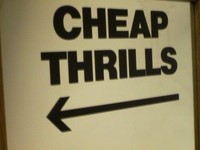 Manila:
Andok's
China Town Restaurants
Chowking: Nai-cha (milk tea) and Buchi
Dirty ice cream (or arce dairy)
Domino's Pizza
Fukuya (authentic Japanese resto)
Iced Milo (the energy drink)
Jollibee: Chicken Joy, Spaghetti and Rocky Road Sundae
KFC: Cheezy Crunch and of course, their famous greasy chicken
McDonald's: McNuggets and McFries
Mister Kabab: Shawarma and Keema
Pares place in GH
Rufo's or S.E.X. (after-drinks)
Taho (sweetened soy bean curd)
Tuyo/Tinapa Fish (with home-made champorado on the side)
Som's (pad thai!!)
California:
Ajisen
Bbq Chicken
Capital Seafood ($12 whole Peking duck)
Carl's Jr.
Hashigo (Korean Bbq)
In-n-Out
Maki Yaki (My and Ron's favorite sushi place)
Naan n' Curry
Olive Garden (never ending pasta)
Tapioca Express
Thai Pepper/Spice
And the list goes on...
jul 13 2008 ∞
jun 6 2010 +