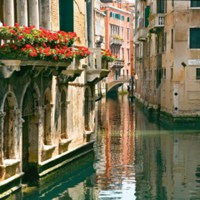 venexia, IPA: [veˈnɛsja]
well, Venice, is my favorite city in the world. I never been there, but, I search a lot of things about t, and I can't resist! pass me so much peace, it's awesome to see how people in love, or better, with the ´passione´ are always getting more in love in this wonderful city. I wish I could go there someday, with someone I love-so-hard. so, here some points I love in this heavenly place.
venice ⍣ It is a city in northeastern Italy situated on a group of 117 small islands separated by canals and connected by bridges. It is located in the marshy Venetian Lagoon which stretches along the coast between the mouths of the rivers Po and Piave.
The name is derived from the ancient veneti people who inhabited the region until the X century. The city was the capital of the historic Venetian Republic and is known as the "La Dominante", "Serenissima", "Queen of the Adriatic", "City of Water", "Floating City" and "City of Canals".
The Venice Carnival is world famous for the beauty of the costumes and masks that locals and tourists use hiding his real identity.
The typical foods of Venice are Fish Soup (Zuppa Pesce), Mariscos, Cameroon, etc.
Gondolas rides do not forget all loving couples should exchange a kiss to pass the Ponte dei Sospiri, according to legend this ensures that love lasts forever.
Scuola Grande San Rocco - Tintoretto.
Caffè Lavena, Caffè Florian.
Palazzo Ducale.
Venice is a city rich in museums, art galleries and related events. These include: the Accademia museum and art gallery specializes in art until the nineteenth century, which is on the south bank of the Grand Canal; the Correr Museum, municipal museum occupies part of the Napoleonic Wing; Ca 'd'Oro; and the latest Peggy Guggenheim Collection.
❝It was the Venice on the Bridge of Sighs; a palace on one side, the other a prison; seal your profile emerging from the water as the touch of a magic wand❞... —Lord Byron, in Childe Harold's Pilgrimage, canto IV, rd. 1, 1812.