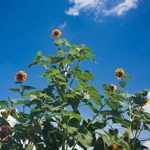 [write five things • people's names, places, emotions, film titles, song titles, bands... anything that sums up your day • do this each day on listography • copy and paste this so others know what this list is about]
09/30 Sun → ya it's too deep to address in a homily, but what about people who sin with depressive symptoms? isn't that a mediating factor? • apparently they were celebrating all September birthdays at Titi Martha's home, and we sorta had to pull her away for lunch :v • Krispy Kreme donuts ("six reasons to smile" so says the box) • the smell of garlic from tonight's home-cooked rice • just sorta quiet (Sad) this evening
09/29 Sat → got my new glasses! the specialist was in yesterday, and so they're done today • the lines at the Chicago Matsuri were longer than the Taste of Chicago (lol glad I only passed through) (also, new glasses and lots of passing people? disorientation!) • puppies at the theater that were up for adoption: Wanda and Wednesday • riding the southbound red line to Chinatown; Eric loves me • oh no, my boba tea addiction can be satisfied in the winter with hot tea from Chatime
09/28 Fri → a long-overdue appointment for a haircut, thank goodness Elena only asked about Eric, I don't want to talk about myself • picking out new glasses ... what's with all the cat-eyed frames in the women's section? so I'm getting men's glasses • according to Ma, I'm described by Dad as "nice company," "pretty to look at," "doesn't speak Polish or Mandarin" and "good to have around" • a short story: two people who don't post on social media meet up at a social event. The end. • "the mothership is on its way; prepare for abduction"
09/27 Thu → Jes left a voice mail?? a comparative analysis ("Christian thinks you hate him if you don't say hi") • SwaggyC's proposal to Bayleigh left such a sour taste in my mouth, so I rewatched Victor's proposal* to Nicole and felt better • bought a JP BanG Dream account, and anxious about receiving it... it's like adopting a puppy • we split a small pizza, spinach and mushroom for me, cheese for Eric • Nell Gwynn at Shakes (snuck in my pumpkin spice latte into the theater, fufuu) aND AN ACTUAL DOG SPOT
09/26 Wed → modified the case of the iOS phone so I could play rhythm games • watched part of Nova's "Origami Revolution" • laundry, and watched the BB20 clip show • got frustrated and yelled at the 7pm sunset bc that's way too soon for a sun to set • as a viewer, I wanted Kaycee to win, but as a hamsterwatcher, I'm surprised Tyler *didn't* win
09/25 Tue → cleaned my keyboard cover • pricing during my entire shift volunteering... bc Christmas is coming • a strong, post-summer storm swept by the hospital, tossing around outdoor chairs and tables • Singaporean rice noodles had just the right amount of spicy flavor • in Switch's album preview, Tsumugi's solo preview begins at 3:25!!! coincidence??? I think not!!!
09/24 Mon → spent time, finessing my taste in j-music (or so I tried) • it's been a while since we've seen a movie together • "it's the Lombard Cabin... the Labin" • Eric finally got back to my question of "what do you like about yourself?" and I'm delighted by his answer • the more I spend time away from him, the stronger I can reaffirm how much he means to me
09/23 Sun → Deacon Adam asked if I could help his students on Tuesday evenings, but that's when I volunteer at the hospital?? welpp • Ma: "I have a song stuck in my head" Dad: "which one?" "a Puerto Rican one" "well I didn't put it there!" • Koto/Riko/Ruby birthday antics at R1 • the train conductor said that I have a nice smile with dimples; it's still tough, but I accepted his compliment • "was he a gentleman to you?" it's not about gender roles, whatsoever, but about common interest
09/22 Sat → a gorgeous (autumn?) afternoon for a walk (for BABY BAYLEEF DAY) • walked to Overflow afterwards, chilled out there for a bit • started an application for Joann's, but why is starting so hard • it's my mom's mom's day, so I'll be doing what my mom wants to do, and if that's eating Mexican food, then I'm ok with that • the enchiladas verdes were so spicy, Ma said I looked like I wanted to cry, lol
09/21 Fri → if it wasn't for Bro, I probably would've stayed home all day • who even designs parking lot structures?? (26 minutes later, we found a spot!) • treated myself to a soft pretzel • helped two ladies take a photo of themselves, sitting on a bench that said [the name of their home country] • just feeling kinda lonely
09/20 Thu → I wasn't needed, whatsoever, but at least I finished my book (: • tortilla soup • custard afterwards • it was the episode of BB20 I highly anticipated: the dissolution of Level 6 • incredibly sleepy incredibly early
09/19 Wed → "off to school?" ahha nope... just getting a lil exercise into the day • walked all the way to the post office • became highly self-conscious of the traces of myself I leave behind my every keystroke • the sky darkened around 5pm, just before a storm... guess who didn't check the forecast today • looked up info about BanG Dream songs, bc I've never actually looked into it
09/18 Tue → finally called about my medicine, at last • a genuinely good convo with my ride share driver! he wants to pursue a PhD in criminology • Harold: "'Happy Fall'" pshh what's so happy about that? Falling isn't happy!" Audrey: "Because when you fall, we'll be there to pick you up." THAT WAS SMOOTH, AUDREY • "I talked to him about P, and he says he's a slumlord" • Bro is trying to convince me that Smash Mouth is life, and even made a playlist for our car ride home
09/17 Mon → Bro gave Dad a ride to the train station • listened to (last week's) Discover Weekly Playlist on Spotify • did 20 minutes of yoga-like techniques (or so I tried) • walked around the neighborhood in the early evening • the Emmys were on TV, that is, on a Monday
09/16 Sun → La Vita è Bella was referenced in today's homily and my lil nostalgic heart soared • Titi Martha's 60th birthday party • "think there's an Argo Tea here?" lo and behold, there is! • I'm just not much for pizza unless it has spinach • trimmed and watered the sunflowers
09/15 Sat → decided not to go to the Roselia DV, I'm gonna regret this but... I gotta work on the photos • "you've been in your head a lot" *gives a plushie* • the good part about the library is that I gained easy distance in PoGO • so we're eating here because of spite?? um, yes • I, for one, think absence makes the heart grow fonder
09/14 Fri → shook up from an existential moment this morning • "ughh I dunno know why I'm like this" Bro: "why *aren't* you like this?" "...deep" • walked home from The 'Bucks instead of taking the bus, yayy cardio • Ma bought a footstool from HomeGoods; it looks like a tooth! • more photo processing; hopefully the "week's end" actually means "Sunday" instead of "Friday"
09/13 Thu → ordering the lunch special from the Chinese restaurant • sad, but not beating myself up about it • "—and I'm here (working) all by myself" Ma says, hanging up the phone, and Kara tells her, "you're not alone, I'm here with you" • double eviction night on BB20, I'm living for this • girlie, getting a DSLR camera doesn't make you a photographer; it's all about how you process RAWs
09/12 Wed → looking at Mark Wahlberg's schedule* and bein' like... what do I even do with my day • forgot my earphones and thermos, but at least I remembered what's most important: my hard drive • tfw "huh… I should google that unique username" and stumble upon an old high school classmate • awkward • what's AMITA's slogan? when you're here you're family? ...OH.
09/11 Tue → Casey Neistat's "Scariest Day of My Life"* • Tio is a ride share driver now?? he picked me up, and also complimented my sunflowers • "Milton, go give this soup to Harold at the front desk, you'd like talking with him" oh boy, Ma... • I like reading, it allows other thoughts to enter my head that aren't mine; sometimes it's just hard to sit down and quiet my own thoughts • talked at lengths with a customer named Carolyn about debit cards, substitute teaching, the housing crisis, and gentrification
09/10 Mon → "gmorning! let's make it to Saturday" my dude, my goal is just to make it to Tuesday • making attempts to make the most of the day (including going for a midday walk, saw Celeste's mom!) • tonight's dinner is sponsored by Mariano's • Dad showed me how his office is taking technological strides away from printed paper... hoping he'll keep up with the changes • doing laundry, upset at the do-or-die set-up for Bachelor in Paradise ;v;
09/09 Sun → Girl Scouts were selling baked goods outside of church for $1, sign me up • inclined to join the choir, but that time commitment tho ;v; • garden work: pruned the sunflowers and trimmed the evergreen • sorta broke down after making a right-hand turn while driving, not like I cried or anything, nbd • watched Miss America 2018, picked 5 girls out of the 51, and one became the runner-up
09/08 Sat → stayed up late, watching clips of Popipa's lives*; (走り始めたばかりのキミに ~acoustic~ ▸ ※) • it's been 4 years since my last eye doctor appointment, oops • it's partially cloudy but my eyes still burned... I burned for the spicy bird • worked on pics at Argo Tea • Chinatown, partially for bakery bread, partially for salt
09/07 Fri → Ma chopped down her tomato plant, but the stump is growing! it's the plant that keeps on living • just impeccably curious what certain people are up to on twitter/ig • read wikipedia, got distracted, and have nothing to show for it other than two pictures pasted into my notebook • sorta broke down? in panic? not fun, whatsoever • forgot to order Ma's grilled chicken sandwich plain, and I didn't wanna complain to the employee, so I ordered another for her and ate that sandwich for dinner
09/06 Thu → coffee should inspire me to do something, but it just isn't? all-round anxious • it's rare finding a main character who's stuck in her head like Lara Jean, making her highly relatable • bullet journaling inspo videos • researched historical schisms within the church • got news through the grapevine that the coffee shop hasn't paid a kid in over a month? I'm living for this tea
09/05 Wed → absolutely obsessed with Nico's witche's journal, something that "organically grows with you as you do" • good, quiet moments with Dad • so um, "the near occasion of sin" is most certainly a Thing • watched Masterchef, and is plating actually a real thing? • that moment when catching Pokemon with Bro, and Smashmouth begins playing on the Pop 2K station
09/04 Tue → "the reason why babies smell so good is so we don't kill them" thanks, Eric, for your coworker's insight • purposefully provoking Brosk, as in, "is this *really* a good PoGO event for stardust?" and he loses it in the most delightful, satisfactory way • showed off pictures of my sunflowers to other volunteers • Ma's grilled cheese, and taking a photo of it would do no justice • Bro got pulled over because he didn't have his lights on, welp, but got by with just a warning
09/03 Mon → labor day traffic was light, so Ma gave me a ride to the northside, chatting with Titi Yola over the phone (today's her 18th wedding anniversary) • "it's a 40% chance of rain, I think I'll take those chances" and then it started to downpour • decorated cookies of succulents and cacti • everything is wrong with me for thinking there's something wrong with me when, in reality, there's nothing wrong with me • Eric watched Bachelor in Paradise with me and his commentary was golden ("why do people sign up for this show" and "is this what non-cable TV is?")
09/02 Sun → saw Ms. Serafin after Mass, and she told me to hang in there! it's all I can really do • visited Titi Martha and helped (Ma in helping) her get a hair cut; we ate at Portillo's afterwards • got a "purse for the back" style of backpack at Macy's for 60% off • I have such low self-esteem when it comes to gift giving, but seeing Courtney still use that one tote I got for her birthday 7ish years ago made my day • finally cut some of the backyard sunflowers for indoor appreciation
09/01 Sat → wonderin' what clothes to wear... then exiting my bedroom, utterly blindsided by the humidity • hearing a simultaneous groan from fellow pedestrians when it started raining downtown • I HATE RIDDLES bc they make me feel STUPID when the answer is revealed • dining al fresco, with a view of lightning in the distance ("guys, what was the meme for August?" and apparently it was B*tch, I'm a Cow) • ordered a latte for dessert at 10pm; glad I did because it came with sugar cubes!