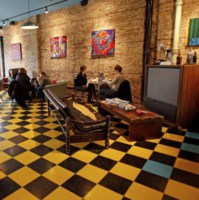 ➸ The best coffee shops in in Chicago ▸ ✹ via TimeOut Chicago; also noted ↣ ❃ TimeOut's best coffee shops in America
C.C. Ferns Coffee → Humbolt Park
Colectivo Coffee → Lincoln Park
Bridgeport Coffee House → Bridgeport
Loba Pastry + Coffee → Lake View
Caffe Streets → Wicker Park
Heritage Bicycle Company → Lake View
Sawada Coffee → West Loop
Gaslight Coffee Roasters → Logan Square
Intelligentsia Coffee ❃ → six locations, varying in vibe and size
Ipsento → (the edge of) Bucktown
Dark Matter → River West/West Town
La Colombe → West Loop

The Philadelphia equivalent to Intelligentsia with a Chicago outpost

Metropolis Coffee Company → Edgewater (Loyola)
Star Lounge ❃ → River West/West Town
The Warmhole → Wicker Park
➸ 10 Hottest Coffee Shops in Chicago ▸ ✹ (via Zigat)
"The perfect coffee shop is a special thing: It's the ideal combination of comfy seating, great coffee and cool decor. Chicago's coffee culture has grown exponentially in recent years, resulting in a surge of chic and unique cafes."
Colectivo Coffee → Lincoln Park (2530 N Clark St); Logan Square (2293 N Milwaukee Ave)

"offers more than a mere caffeine fix, with craft beer, abundant baked goods, a sprawling patio and an impressive menu"

Fairgrounds Coffee & Tea → Bucktown (1620 N Milwaukee Ave); Loop (12 S Michigan Ave)

must order: matcha program, features lattes and cappuccinos

Werewolf Coffee Bar → Lincoln Park/Bucktown (1765 N Elston Ave)

"Werewolf does crafty, offbeat things with drinks, like turmeric sodas and jet-black charcoal lattes"

Back of the Yards Coffee Co. → Back of the Yards (2059 W 47th St)

"Must-order: The Cafe de Olla, a blend of the cafe's signature coffee with Mexican raw sugar molasses, cinnamon, star anise and clove"

Metric Coffee → Near West Side (2021 W Fulton St)

"The space is cool too — small and industrial, not the kind of cafe where you'd linger with a laptop; rather, the focus here is squarely on the java"

Passion House Coffee → Logan Square (2631 N Kedzie Ave)

"The storefront is comfortable and lofty, staffed by welcoming baristas and equipped with plenty of space to work or people-watch."
"The Night Moves Dark Roast Blend is a hearty pick-me-up, while the smoother and sweeter Chicago House Blend offers a more subtle option."

Meddle → West Loop (601 W Jackson Blvd)

"rightfully known for its offbeat lattes, like the gingery Gingersnap Trainwreck, but all the daily rotating coffees are winners, including the iced varieties"

Ipsento 606 → Bucktown (1813 N. Milwaukee Ave)

"be sure to try the namesake Ipsento latte, a heady, spicy sipper with cayenne, honey and coconut milk"

Damn Fine Coffee Bar → West Logan Square (3317 W Armitage Ave)

"Coffee hails from local roaster Halfwit, and it's quite good. There's also a fine cortado. Teas from Spirit Tea are equally impressive if you're going that route."

Sawada → West Loop (112 N Green St)

"The military latte features intricate swirls of green tea and a few careful dots of espresso, and it tastes luxurious."
➸ 2015 Coffee Passport ▸ ✹ (via blogspot)
Sol Cafe → Rogers Park (1615 W Howard St)
Ellipsis Coffeehouse → Edgewater (1259 W Devon Ave)
La Colombe → Andersonville (5158 N Clark St)
Ch'ava Cafe → Ravenswood (4656 N Clark St)
Everybody's Coffee → Uptown (935 W Wilson Ave)
Heritage Outpost → Uptown (1325 W Wilson Ave)
Atomix Cafe → Ukrainian Village (1957 W Chicago Ave)
Buzz: Killer Espresso → Bucktown (1644 N Damen Ave)
La Colombe → Wicker Park (1552 N Damen Ave)
The Wormhole Coffee → Wicker Park (1462 N Milwaukee Ave)
Caffe Streets → Wicker Park (1750 W Division St)
Awake Cafe → Noble Square (1357 W Chicago Ave)
Ugly Mug Cafe → Noble Square (1458 W Chicago Ave)
Big Shoulders Coffee → River West (1105 W Chicago Ave)
Nitecap Coffee Bar → Pilsen (1738 W 18th St)
Robust Coffee Lounge → Woodlawn (6300 S Woodlawn Ave)