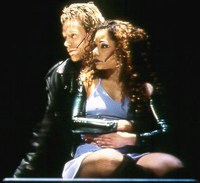 Aida
Not me
Easy as life/ Elaborate Lives
Fortune favors the brave
Dance of the robes/ Written in the stars
American Idiot
21 Guns
Boulevard of Broken Dreams
Last Night on Earth
Wake me up when September ends
Cats
Macavity
Mungojerrie & Rumpleteazer
The Jellicle Ball
The Moments of Happiness/Magical Mr. Mistofelees
Chess
Where I want to be
Pity the child
Nobody's Side / Dangerous and difficult times
The Deal / Someone else's story
The Count of Monte Christo
A story told
Hell to your doorstep
I will be there
I know those eyes/This man is dead
Dracula
Zu Ende
Das Lied des Meisters
Die Zugsequenz
Die Verführung/ Ein Leben mehr/ Jonathans Schlafzimmer
Elisabeth
Die Schatten werden länger I & II
Maladie
Wenn ich tanzen will
An Deck der sinkenden Welt/ Milch/ Alle Fragen sind gestellt/Prolog
Elisabeth - die Legende einer Heiligen
Hol mich heim
Dein Herz kennt kein Liebe
So weit der Himmel reicht
Du rettest die Welt für mich
Der Glöckner von Notre Dame
Wie aus Stein
Draußen
Esmeralda
Das Licht des Himmels
Hinterm Horizont
Moskau
Hinterm Horizont
Mein Ding/ Odysee
Ganz anders
Jekyll & Hyde
Mädchen der Nacht
Gefährliches Spiel
Die Welt ist völlig irr'
Fassade
Jesus Christ Superstar
Heaven on their minds
The Last Supper/ Gethsemane
Damned for all time/ The Temple/ Overture/ Judas' Death
Could we start again please? John Ninety-Fortyone
Love never dies
The Beauty underneath
Til I hear you sing
Devil take the hindmos
Les Misérables
I can't sort it out yet, I love too many little parts and lines
Epilogue (the part where Fantine begins)
Look down, Paris/ One Day More
Red and Black
On my own/ Do you hear the people sing
Mozart!
Irgendwo wird immer getanzt
Wie wird man seinen Schatten los?
Ich bin Musik
Mozart, Mozart
Next to normal
I am the one + Reprise
I'm alive
Wish I were here
Just another day
RENT
What you own
Another Day
Your Eyes
La Vie Bohemme/ I'll cover you Reprise/ Seasons of Love
Die Schöne und das Biest
Belle + Belle Reprise
...
Spring Awakening
Don't do sadness// Blue Wind/ Those you've known
The Dark I know well/ The Bitch of Living
Totally fucked
The Mirror-Blue-Night/ Touch me
Tanz der Vampire
Rote Stiefel//Gebet
Tanzsaal
Einladung zum Ball
Die unstillbare Gier
We Will Rock You
Who wants to live forever
One Vision
I want it all
Bohemian Rhapsody
Wicked
As long as you're mine
Defying gravity
No good deed
Thank goodness/ Finale/ Popular
Others
Belle - Notre Dame de Paris
Everyone's alittle bit racist - Avenue Q
Goodbye - Catch me if you can
I am a mirror - Freudiana
If you were gay Avenue Q
Someone else's skin - Catch me if you can
With you Ghost
tbc