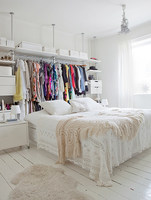 I like style which I named Skandinavian Vintage - white background (walls, furnitures) with flower patterned fabrics, crockery etc. and silver metal (lamps, wire baskets, tins)
living room:
white walls
coffee table - white cube on castor
system of shelves and cases or glass-door cabinet for books
comfortable couch or longue in saturated colour or floral pattern - or ash grey
many cushions, throws, blankets etc.
crystal chandelier
white furniture
curtains with floral pattern
hall:
bench for sitting
bench with shoe storage
cabinet for shoes rarely used
clothes rack or hanger on the wall
really big mirror
kitchen:
white cabinets with wooden work tops
white shelves instead of cupboards
big refrigerator in Smeg style (silver or yellow)
white simple large table and simple chairs or bench
white bookstands or glass-door cabinet for jars with pasta, cereals, coffee, tea etc. and plates, mugs, bowls etc.
bathroom:
massive crystal chandelier
middle size bath (enough big to lie comfortable)
shower on the floor, with no shower basin, doors, cabins etc., only glass screen
2 shower heads - one basic and one big overhead "rain"
small tiles (2cmx2cm)
cabinet for cosmetics
armchair
bedroom:
white walls
one wall can have light floral wallpaper
huge bed with original headboard or four-poster bed
wooden floor with fluffy carpet
cubes and shelves for few books, candles, photos etc.
huge wardrobe, the best would be "walk in"
large mirror
all furnitures white
all cushions, throws, bedspread, duvet etc. with colourful floral pattern
tulle curtains in windows
small table for laptop
balcony/garden:
small table for book, water, sunglasses etc.
wooden floor decking
some small seat (about 20cm high) with very soft cushions - could be bench with armrests or two single deck chairs with armrests
colours (pick one combo):

white/baby blue/pale green
white/baby blue/red
white/pink/yellow

hammock (if enough space)
parasol