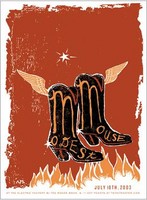 Owen at Bottom of the Hill SF
Delorean at Middle East
Tim Kasher at Great Scott Oct 4th 2010
The XX at Orpheum Theater Oct 3 2010
A.A Bondy again! at BU Central Oct 2 2010
Mice Parade very briefly @ Great Scott, Sept 2010
Cap'n Jazz!!!, with the Death Set, No Age, and Lightning Bolt- July 26 2010
Atlas Sound- with Broadcast- Oct 22 09
Owen- with Rubik- Great Scott oct. 09
A.A. Bondy!- @Great Scott sept 8 09
Incubus again!- aug 7 09 at PNC arts
Deerhunter, Dan Deacon, No Age- Brooklyn Aug 2 09
Grizzly Bear- Troc in Philly June 2
Animal Collective, with Grouper, @ Terminal 5 nyc- May 13th
Cloud Cult! @ Paradise april 7 09
The Heartless Bastards -feb 3 09

at which i got permanent Tinitus. thanks a lot you...you.. you heartless bastards. ha

Death Cab for Cutie and st vincent !!! at agganis.
St Vincent at the MFA with mah girles!
Girl Talk/The Death Set
The Walkmen (and Golem/some other lame opening band)
Radiohead! <333 /with Grizzly Bear, in Camden
Conor Oberst in Philly
NERD, Lupe Fiasco, Rhianna, and Kanye! thank you charleennne
Joan of Arc in Brooklyn
Black Lips in Brooklyn
Bradigan (Dispatch) at the Peace Concert
Wilco in Brooklyn for my Birthday present from Brian<3
The Decemberists in Philly a long time ago
Modest Mouse in New York, with Man Man
Devendra Banhart, plus Cocorosie and moreee in New York
Owen twice, once with The Appleseed Cast
umm.. E-603 :P
Sting and Annie Lennox with my mommy
Incubus, in Philly and at MSG and at Lolapaloza ages ago.
World Inferno Friendship Society many times in many places.
Streetlight Manifesto/ Big D and the Kids Table
Five Iron Frenzy! Christian Ska show, very amusing
in progress!
sep 27 2008 ∞
apr 14 2012 +