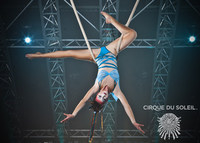 Before I started trapeze, I knew little of how many amazing acts there were in contemporary circus! This list mostly references Cirque du Soleil & other contemporary circuses and excludes Ringling Bros. type acts that involve animals.
Trapeze:

Flying trapeze.
Static trapeze.
Swinging trapeze.

Silks (or Tissu).
Lyra (or Hoop, Cerceau)
Cloud swing.
Corde lisse.
Spanish web.
Hammock (or Sling).
German wheel.
Banquine.
Hand-balancing.
Contortion.
Teeterboard (or Korean plank).
Tightrope/High-wire.
Slackline.
Russian swing.
Russian bar.
Straps.
Trampoline.
Cyr wheel.
Wheel of death.
Juggling.
Unicycle.
Diabolos.
Chinese pole.
Hand to hand.
Chair balancing.
Bungee.
Foot-juggling.
Aerial cradle.
Adagio.
Aerial cube.
nov 11 2011 ∞
nov 13 2011 +