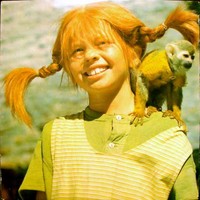 Fern Gully: Batty really cracked me up.
Fievel Goes West: The robotic dog in Fievel Goes to America actually kind of scared me.
The Secret of Nimh.
Hook.
The New Adventures of Pippi Longstocking.
Who Framed Roger Rabbit?
3 Ninjas.
Cool Runnings.
Mrs. Doubtfire.
Homeward Bound.
Richie Rich.
Radio Flyer.
North: My introduction to Elijah Wood.
Trading Moms: Not many people seem to know this one. All the different moms to choose from in the "Mom Market"! Me and my sister loved it.
Now and Then.
My Girl.
Problem Child.
The Secret Garden.
The Little Princess.
Heidi.
The Parent Trap: The old, Hayley Mills version, please.
The Neverending Story.
Big Girls Don't Cry, They Get Even.
Coneheads.
Home Alone.
Honey, I Shrunk the Kids & Honey, I Blew Up the Kid: I didn't really take a liking to Honey, I Shrunk the Kids...Again.
The Witches: Absolutely scared the crap out of me.
All Dogs Go To Heaven.
Disney movies, of course:

Animated:

Sword in the Stone.
The Rescuers and The Rescuers Down Under.
Beauty & the Beast.
Pollyanna.
The Swiss Family Robinson.
Mary Poppins.

Made for TV:

Zenon: Girl of the 21st Century.

Harriet The Spy: Yes, I did start keeping my own spy journal afterwards.
Corinna Corinna.
Curly Sue.
Andre.
Mary Kate and Ashley movies:

Billboard Dad.
Passport To Paris.
How the West was Fun.
It Takes Two.

Wild Hearts Can't Be Broken.
Encino Man.
We're Back! A Dinosaur's Story.
Little Nemo: Adventures in Slumberland.
The BFG.
Mom and Dad Save the World.
Shelley Duvall's Rock n' Rhymeland. a.k.a. Mother Goose Rock n' Rhyme. This movie wasn't very well known but I enjoyed it thoroughly.
Drop Dead Fred.
Big Bird in China.
Big Trouble. Strange, very strange. But entrancing, nonetheless. I had nightmares about the two giant babies.
People Purple Eater.
Troop Beverly Hills.
Babysitter's Club.
feb 8 2008 ∞
sep 3 2016 +