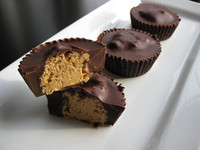 Peanut butter &

Chocolate. The darker the better.
Graham crackers.
Marshmallows.
Bananas.
Jelly. Grape.

French fries & chocolate milkshakes.
Whipped cream on/with

Waffles.
Strawberries.
Angel food cake.
Ice cream & sprinkles, of course.

Hummus &

Rice cakes.
Toasted pita.
Any hard/crispy bread product, really.
Raw veggies.

Cinnamon &
Bananas & tomato sauce.

Okay, I know this sounds gross. But I got the idea from an old episode of "Doug" where they were in Home Ec class and Doug made a pizza and someone else in the class, I think Roger or Patty? made banana pudding. They weren't paying attention and bumped into eachother, spilling the banana pudding all over the pizza. Instead of just tossing the ruined recipes, they tried it and everyone loved it and it became the new trend in school to dip your banana in a can of pizza sauce. So I tried it after watching the show and I loved it!

Dark chocolate &

Coconut, preferably toasted.
Cherries.
Almonds.
Strawberries.
Peppermint.

Popcorn & M&Ms.

The combination of the salty and sweet. And also, the childhood memories associated; my mom would always mix a big bowl of freshly popped popcorn and M&Ms together when we would watch movies together.
mar 15 2009 ∞
mar 19 2011 +