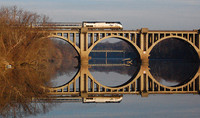 If you ever find yourself there:
Go to Carl's ice cream. It's been open since 1947. They make it the old-fashioned way. It's simple and delicious and the line wraps around the building in the summer.
Go to Liberty Town Workshop. A lot of amazing artists all under one roof. You can walk around and have a look in their personal studios. You can also take classes, painting, sculpture, whatever your heart desires.
Eat at Sammy T's. My all-time favorite restaurant. It's mainly a vegan/vegetarian restaurant but they have something for everyone. I recommend the black bean cakes.
See the giant pear drop on New Year's in the downtown historic district. Yep, New York City drops the ball, we drop a giant pear.
Visit the Fredericksburg National Cemetery. Especially on the night of Memorial Day to see the 15,000+ luminaries that the local boy scouts put on every single grave.
Go to the Farmer's Market at Hurkamp Park on the weekends. Support local vendors and purchase some delicious, fresh, organic food.
Attend the annual Fredericksburg Dog Festival. Also in Hurkamp Park. All types of dogs and in costumes, too. There are also tons of vendors with pet-related products and services.
Attend First Friday's. Downtown on the first Friday of every month. Art gallery openings, music, food, fun, etc.
Go to the Rappahanock River. Especially in the summer. Go tubing, kayaking, have a picnic on the rocks, fish. It's a pretty little river.
Go on a Fredericksburg Ghost Tour. Lots of little haunted places from the colonial and Civil War era to enjoy.
Visit the numerous Civil War battlefields. The Battle of Fredericksburg took place here but there are tons of other Civil War related sites to visit.
See the campus of the University of Mary Washington. They just had their centennial birthday. The campus is really beautiful and historical. Lots of old brick buildings with big, white columns.
Visit the Fredericksburg Center for the Creative Arts. There's always great new art on display and it's the oldest art gallery in the area. The building was built in 1785 and I like to believe it's haunted.
Go to Jabberwocky. A unique store downtown. Whether you have kids or not, this store always has unique toys, books and knick-knacks.
Go to Goolrick's. It's an old-fashioned soda shop straight out of the 50's. Get a root beer float and sit on the stools at the old formica counter where there was a historic sit-in during the segregation days.
Take a horse carriage ride. Or you can take the trolley! Or the river boat! There's plenty of unique transportation options to see the area.
Peruse one of the many antique shops. The downtown area has a plethora of antique shops. I have scored some amazing old books, jewelry and furniture.
Go to Alum Springs Park. It's a little gem in the middle of a very commercial area. There's beautiful wooded trails to walk and a spring to swim and splash around in.
Stay in a historic bed and breakfast. There's some wonderfully old, beautiful colonial houses to stay in in downtown Fredericksburg. The Schooler House Bed and Breakfast is my personal favorite if for no other reason than it's painted bright orange, green and purple!
Visit Slaughter Pen Farm. It was just recently saved from being destroyed for development and declared a historical site but it's still completely abandoned and untouched. It's a goldmine for photography lovers. You can explore inside the old silo, the barn and the creepy old house.
Walk, run, or bike the Heritage Trail. A newly opened 3.1 mile paved trail that runs through downtown Fredericksburg, along the Rappahannock, and the canal. It's a good way to exercise and see the best parts of town.
Get tattooed at Jack Brown's. The ONLY place I would ever consider getting tattooed at in this small town.
oct 24 2008 ∞
nov 25 2013 +