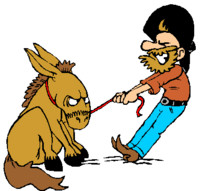 Stubborn as a mule.
Tough cookie.
Diamond in the rough.
Can't judge a book by it's cover.
Tough as nails.
Free as a bird.
Sharp as a tack.
True blue.
Two left feet.
Silly goose.
Wise as an owl.
Worry wart.
Head over heels.
Close but no cigar (Story of my life).
Lone wolf.
Early bird.
mar 14 2008 ∞
jun 12 2011 +