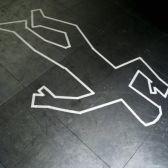 Mole on right cheek.
Red birthmark on upper lip.
Red heart-shaped birthmark on left forearm (It turns purple when I'm cold, therefore it will probably turn purple when I'm dead).
Freckle on left breast.
Free-hanging earlobes.
Cherry blossom tree tattoo on right side of back/hip.
Mole right beside one of the branches on said tattoo.
"So it goes." tattoo on left wrist.
Crystal ball/swirling mist/fortune teller's eyes tattoo on the outside of my right arm/shoulder/bicep.
Love Potion No. 9 tattoo on the inside of my right bicep.
An old-fashioned/pin-up style tight rope walker tattoo on the outside of my left arm.
A dagger with a woman for the hilt tattoo on the inside of my left bicep.
A bat tattoo on my left ankle.
Mole on upper left torso.
Small indent above left eyebrow.
Metal filling in bottom right molar.
My right eye seems to be slightly smaller than the left.
I have two annoying cow-licks, one at the front of my part and one smack dab in the back of my head.
Freckly forearms.
Apparently, I also have a rather smaller than average size head.
Recently discovered one of my nostrils is slightly larger than the other. Fun.
sep 29 2008 ∞
mar 1 2015 +