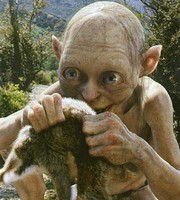 Yes, I take the time to analyze these things.
Nazgul (Ringwraiths) vs. Dementors.
Sauron vs. Voldemort.
Gandalf vs. Dumbledore.
Frodo vs. Harry.
Shelob vs. Aragog.
Gollum vs. Dobby (appearance not necessarily temperment).
Mirror of Galadriel vs. Pensieve.
Wormtongue (Grima) vs. Wormtail (Peter Pettigrew).
Miruvor vs. Butterbeer.
Old Man Willow vs. The Whomping Willow.
The Prancing Pony vs. The Leaky Cauldron.
Elven-cloaks vs. Cloak of invisibility.
Anduril vs. Sword of Gryffindor.
Fell beasts vs. Thestrals.
Watcher in the Water vs. The Giant Squid.
Fangorn Forest vs. The Forbidden Forest.
Merry & Pippin vs. Fred & George.
The Fellowship of the Ring vs. The Order of the Phoenix.
jul 29 2008 ∞
oct 22 2010 +