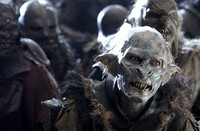 Orcs vs. Urgals.
Uruk-hai vs. Kull.
Sauron vs. Galbatorix.
Nazgul (Ringwraiths) vs. Ra'zac.
Hobbiton vs. Carvahall.
Frodo vs. Eragon.
Lothlorien vs. Du Weldenvarden.
Galadriel vs. Islandzadi.
Barad-dûr vs. Helgrind.
Mines of Moria vs. Farthen Dûr.
Anduril vs. Zar'roc.
Fangorn Forest vs. The Spine.
Arwen vs. Arya.
Saruman vs. Morzan.
Bilbo Baggins vs. Garrow.
Elvish vs. The Ancient Language.
Rohan/Riders of Rohan vs. The Varden.
Éowyn vs. Nasuada.
King Théoden vs. Ajihad.
jul 29 2008 ∞
oct 22 2010 +