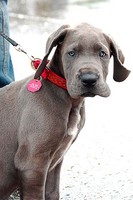 for the hundreds of dogs I plan on having in my lifetime.
Ramona: Mona for short.
Hayao Miyazaki related names:
Ursula.
Petal: for a sweet female dog.
Harry Potter related names:

Dobby.
Albus.
Sirius. See 'Space related names' also.

Luna.
Peabody.
Opal.
Daphne and Josephine: For two female dogs. Some Like It Hot tribute.
Ferguson: an homage to Clarissa Explains It All. Fergie for short.
Thor.
Montezuma: Monty or Zuma for short.
Brutus and Nero: The Rescuers Down Under tribute.
Zeus.
Otis.
Quigley: for a quirky, silly looking dog.
Lord of the Rings related names:

Samwise: Sam for short. Only for the most loyal of dogs.
Frodo.

PeeWee.
Bruiser.
Booger.
Igor.
Elroy.
Laika: After the first dog in space.
Muppets related names:

Sweetums: For a large, hairy dog.
Bunsen and Beaker: For two oddball little dogs.
Fozzie.

Bocephus: Bo for short. To be the name of the first dog me and my boyfriend get together, he's decided.
Beans.
Lola.
Stella.
Mudge. From the old children's books Henry and Mudge.
Porkchop. From Doug, of course!
Elphaba. Wicked! Elphie or short.
Space related names (Nerd alert!):

Orion.
Rigel.
Betelgeuse.
Vega.
Pollux.
Sirius, Regulus, Bellatrix. Also, Harry Potter names, of course, but after all, the stars did come first.
jan 14 2008 ∞
apr 14 2012 +