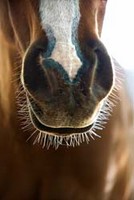 A velvety horse muzzle.
The soft, fuzzy hair of an infant.
Warm, fluffy towels straight from the dryer.
Soft, warm sand beneath my toes.
Flannel sheets.
Stingray skin (the touch pool at Sea World!).
Putting on brand new socks.
Laying my cheek on my sunburned shoulder.
Smooth, cold stones in a stream or river.
Bare feet squelching in mud.
A lamb's ear leaf between my fingers.
Slicing through a thick slab of clay with a thin wire.
Popping a Snapple cap in and out.
My microplush blanket.
Running my fingers through my significant others' hair.
Memory Foam.
Terry cloth.
Laying my head on a cool pillow after an exhausting day.
The cold, smooth scales of a snake.
Goose down.
Thick parchment/drawing paper.
feb 21 2008 ∞
oct 28 2011 +