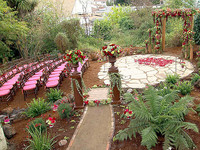 If I get married, that is!
Shoes. I plan on being barefooted.
A veil. I plan on being bareheaded. I find them very old-fashioned. Especially, when women cover their faces coming down the aisle and have their fiance lift it as if she's an object being unwrapped.
Expensive jewelry. I plan on having a pretty natural look and bodily canvas. I am not into overt and guady displays.
A pastor. I plan on a non-denominational wedding. There will be no mention of God in my wedding.
A church. See above. And also, I plan on an outdoor wedding.
A cheesy DJ. I plan on live musicians.
Multiple bridesmaids. Less people, less dresses, less money. Also, I don't have many close friends!
Traditional vows. I plan on writing my own.
Fancy invitations. I'll get away with email invites if I can.
Chocolate cake. I will have an angel food wedding cake. No ifs, ands or buts.

Also, said cake will not be white and multi-tiered. I wish that old-fashioned notion would go away. Be creative!

Gift registry. I don't want my guests to have to buy me things. It's supposed to be a celebration of love not commercialism.
A giant diamond ring. I plan on a simple band. Maybe with some kind of engraving on the inside.
A limousine. I think they'yre kind of tacky. I'll find a more unique way to arrive and depart. Perhaps horseback or in a cool 50's car.
A videographer. I think photography is a classier, classic way to preserve memories.
For my boyfriend to have to ask my father for permission to marry me. So old-fashioned. And it's kind of up to me, not my dad.
A first dance. We were already the center of attention at the ceremony. I just want everyone to have fun and dance when they please at the party.
A white dress. Or at least not a traditional, completely white gown. I'd like a pop of color and a unique shape and style to my dress.
The whole "something old, something new, something borrowed, something blue" thing. I don't know where that tradition came from but I'll pass. It doesn't seem to add anything to the day.
The stress. Nothing is or will ever be perfect so there's no need to dwell on every tiny aspect of a wedding. I think I'll be happiest if I let go of expectations and have fun in the moment. I've seen the show "Bridezillas" a few times and those women are pretty insane to me!
"Here Comes the Bride" playing as I walk down the aisle. Again, too traditional, too played-out. It doesn't mean anything to me. I'm not sure what song I want but it will be something unique of my choosing. Maybe Bach's Cello Suite No. 1?
oct 14 2008 ∞
sep 27 2010 +