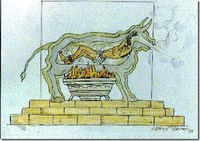 I hope this doesn't come off as sadistic but I find devices of torture throughout history strangely fascinating.
Brazen bull.
Iron maiden.
The rack.
Judas cradle.
Scaphism.
Scold's bridle or branks.
Heretic's fork.
Necklacing.
Breaking wheel.
Burning at the stake.
Waterboarding.
Tiger bench.
Bamboo shoots under the fingernails.
Impalement.
Pear of Anguish.
aug 13 2011 ∞
dec 29 2011 +