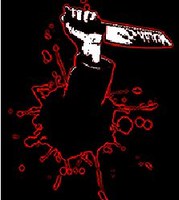 HIYA! I'm Tiffany but you can call me Tiff.
She/her!
I'm 21! Not comfy talking to anyone under 16.
I am very much taken by my irl ghostface hubby, 1-13-21 <3
I am a digital artist, I've been drawing for 10 years and have no plans to stop any time soon! I primarily draw anthro art and creepy stuff.
I am a MASSIVE horror fan. It is my biggest fixation and undoubtedly, the biggest part of me. I hold anything spooky and scary close to my heart. I enjoy slashers, found footage, and paranormal flicks the most.
I am a HUGE metalhead! Arguably as big of a fixation to me as horror is. I love Nu Metal and Deathcore the most!
may 27 2023 ∞
may 27 2023 +