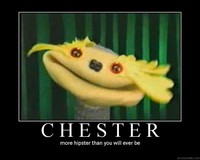 "Hey fruity lips... come on, come on home with me sugar butt."
"im doctor bubba, the famous russian scientist...im also this famous noregien sky sniper, his name is doctor bubba."
"dudes dont be winkin at chicks in my sugar turf."
" i was in the roller derby for years, they called me the NUCLEAR DE-CAP-ITAT-OR"
"hey, whats shakin on that side of the room?"
"more letters? thats a lot of stamps. thats a lot of tongues"
"im a cleo. thats the greek god of carnival rides"
"my heaviest experience...is gravity"
OLLY: "how do you know he plays pool?" CHESTER: "i dont know, hes always talking about 8 balls"
"i do this thing where you call up and i go over to your house and pull off a medieval dance move on your ass"
may 28 2010 ∞
may 28 2010 +