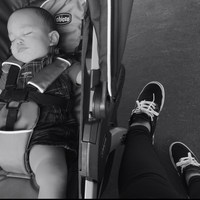 Waking up energized.
My makeup.
Kellin's cute outfit.
Spending the day with Ben at his work; hanging out with Kellin and Ben's student.
Ben's co-workers always making us feel welcomed.
Buying Honey Boba after Ben got off from work.
Foot massages and butt rubs.
Seeing Kellin enjoy eating his organic baby food.
Taking a hot shower.
Nursing Kellin to sleep.
mar 18 2016 ∞
mar 18 2016 +