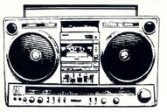 After Radiohead and Buckcherry, the bands are not listed in any specific order. Also, this list is still [and will likely remain, at least in part] incomplete.
Radiohead.
Buckcherry.
Tokio Hotel.
Incubus.
Smashing Pumpkins.
Red Hot Chili Peppers.
Stone Temple Pilots.
Gin Blossoms.
Sister Hazel.
Avenged Sevenfold.
Nine Days.
Coldplay.
Cold.
Deep Blue Something.
Lit.
Live.
My Chemical Romance.
Toad And The Wet Sprocket.
Better Than Ezra.
Three Days Grace.
Three Doors Down.
The Doors.
The Beatles.
Chevelle.
Trapt.
Saliva.
Disturbed.
Korn.
Slipknot.
ICP.
Dinosaur Jr.
Interpol.
The Killers.
Bright Eyes.
Alanis Morissette.
Sarah McLachlan.
The Wallflowers.
God Lives Underwater.
Christina Aguilera.
Lady Gaga.
Avril Lavign.
Collective Soul.
Matchbox Twenty.
Barenaked Ladies.
The Moldy Peaches.
Rush.
Nirvana.
Pearl Jam.
Evanescence.
Semisonic.
Broken Social Scene.
Soul Asylum.
Rise Against.
Ween.
Weird Al.
All Time Low.
Blind Melon.
Foo Fighters.
Goo Goo Dolls.
Hole.
Bush.
Coheed And Cambria.
Puddle Of Mudd.
Muse.
Staind.
Creed.
Modest Mouse.
Green Day.
Rammstein.
Dir En Grey.
Gackt.
Miyavi.
Utada Hikaru.
Ayumi Hamasaki.
Jack Johnson.
Hootie And The Blowfish.
Oasis.
Shattersphere.
The Shins.
Otep.
Placebo.