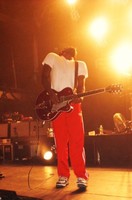 2006:
HELLOGOODBYE, Boys Like Girls
HONDA CIVIC TOUR: The Academy Is..., Paul Wall, +44, Fall Out Boy, Cobra Starship. YEAH.
2007:
PROJEKT REVOLUTION '07: Mindless Self Indulgence, Placebo, Taking Back Sunday, My Chemical Romance, Linkin Park, HIM, Julien-K, Saosin, The Bled, Styles of Beyond
2008:
RISE AGAINST, Comeback Kid, Only Crime
BAMBOOZLE '08: Story of the Year, Red Jumpsuit Apparatus, Chiodos, Jack's Mannequin, Secondhand Serenade, MSI, A Rocket to the Moon, Fiction Plane, Dear & The Headlights, Family Force 5, The Sleeping, From First to Last, Red 13, Scary Kids Scaring Kids, Circa Survive, Motion City Soundtrack, The Academy Is..., The Starting Line, Senses Fail, Coheed & Cambria, My American Heart, Foxy Shazam, The Secret Handshake, Mayday Parade, The Thief, Brighten, Liam & Me, The Attack, Good Old War, October Skyline...
KEVIN DEVINE, Brian Bonz, Jenny Owen Youngs, Aeroplane 1929
MINDLESS SELF INDULGENCE, Julien-K
PROJEKT REVOLUTION '08: Atreyu, Busta Rhymes, The Bravery, Chris Cornell, Ashes Divide, Linkin Park
ALL POINTS WEST FESTIVAL '08: Radiohead, Animal Collective, Kings of Leon, Sia, Chromeo, Metric, Nicole Atkins, The Felice Brothers, The Black Angels
Anthony Green, Good Old War, Person L: Toad's Place
2009:
KINGS OF LEON, The Whigs.
BLOC PARTY, Longwave.
CLOUD CULT, Ice Palace.
BAMBOOZLE '09: JOURNEY! And some other bands.
THE SHINS, Delta Spirit.
NEWPORT FOLK FESTIVAL '09: Pete Seeger, Fleet Foxes, The Decemberists, Iron & Wine, Gillian Welch, Tom Morello: The Nightwatchman, Avett Brothers, Ben Kweller
BRAND NEW, Glassjaw. (missed Kevin Devine </3)
GOOD OLD WAR, Cast Spells, Hezekiah Jones (@ the Space).
2010:
MUSE, Silversun Pickups.
JOANNA NEWSOM, some other dude.
JONSI, Death Vessel
THE NATIONAL
CAKE.
SLIGHTLY STOOPID, Cypress Hill
NEWPORT FOLK FESTIVAL '10: John Prine, Andrew Bird, Horse Feathers, The Low Anthem, Calexico, O'Death, etc.
ARCADE FIRE, Spoon, Final Fantasy. @ MSG.
DEVENDRA BANHART, Adam Green.
THE TOASTERS, Husbands AKA, Rough Francis
BADFISH, Scotty Don't
MATT & KIM, Fletcher C. Johnson
HORSEFEATHERS, Paper Castles
JOANNA NEWSOM, Ryan Francesconi
2011:
SOULIVE, Nigel Hall.
Cheddar Band!
Coming Up:
Folk Festival '11
Hang Out Festival
Animal Collective
Andrew Bird
Beirut
Sufjan Stevens
Phish?
dec 13 2008 ∞
apr 26 2011 +